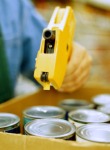 For retailers trying to keep better track of their inventory, correct pricing is crucial, and that's why they need to know about Nickmar Pricemarking. In business since 1990, the company is one of the largest suppliers of pricing applicators to the retail industry, carrying both pricing machines and the labels that go with them. "We sell to everyone in retail," says Mary Ann Dill, director of marketing for the company. "Our customer base is anyone who needs a price-marker."
Currently servicing more than 350 retailers, Nickmar has a number of different markers for every budget. "Our best seller right now is the Sato marker," Dill says. "It's a lightweight two-liner, easy to load, offers rapid trigger action and is built to last," she says. The unit retails for $69, but is available wholesale at $49 for orders of 12 or more.
Nickmar also carries various other items to keep shelves looking neat and ordered. "We have feather dusters, case cutters, 'tachit machines' (tagging guns), hangtags, shelf numbers, j-hooks and more," she says, "and, of course, the labels to go with the pricing guns." They also offer free shipping and a 10 percent discount for new customers in their region of California. Interested buyers should call for details.
For More Information:
Nickmar Pricemarking
59 Old El Pueblo, Unit D
Scotts Valley, CA 95066
Toll Free: 800-841-5696
Website: www.nickmar.com