By Christian Kratsas
Gone are the days where you need expensive camera equipment, lighting and professional editing software to create an effective video. Now, all you need is a good camera and a creative idea to engage your customers. In fact, your online following is 40% more likely to engage with your video than any other plain text content.
In this post we will get you started with video, give you 10 ideas and offer tips to increase views and engagement.
Shooting from your smartphone
If you have already invested in a fancy digital camera, then you are ahead of the game. But the same thing goes for the smartphone owners out there. You can still shoot high-quality video right from your phone. Newer smartphones are even equipped with high definition capabilities, stability control and editing options. Remember, the best camera is the one you have with you.
Here are a few tips for taking video with your phone:
Always wipe off the lens so that it is clear of fingerprints and dust
For high quality video, avoid zooming. Move closer to the subject
Add as much natural light to the scene as possible
Shoot your product from multiple angles
On most phones, just touch the screen to focus
Hold your arms close to your body to prevent shaky video
Another great perk of using a smartphone for video is the ease of sharing. Most phones allow you to share to social media directly from your image library. Trim your video with the simple editing tools we mentioned earlier and post to social with a few clicks!
Sharing on social media
No one is going to see your videos unless you start sharing them online! We suggest utilizing Facebook and Instagram as part of your video strategy.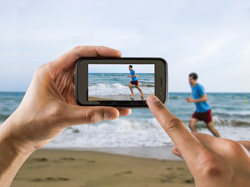 Video on Facebook
You can upload video directly to your Facebook business page the same as you would a photo or a link. The video will then post to your page for your customers to see in their News Feed. Not only does video get exceptional engagement, but also Facebook provides metrics to help you find what resonates most with your audience. You can access this information from the Posts tab in your Facebook Insights. Just click on the video post you wish to measure, and you will be presented with video metrics. You can see:
The average duration of views
Total vs. unique video videos
Paid vs. organic video views
How many people viewed your video for 3 seconds
How many people viewed at least 95% of the video
These numbers will help you decide the best video length as well as the type of content you shoot next.
Your videos will also show in the Video tab under your cover photo. You can feature your most popular video by clicking Feature this video next to the likes, comments and shares of the video. Once featured, it will show as the large version in your Video tab, as well as right above the About section.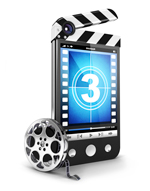 Video on Instagram
Instagram video is simpler since you do not get the metrics and features that Facebook offers. However, you can save time shooting since Instagram has a 15 second video max and you can only upload from your mobile device. Choose to upload any video from your phone's library and trim it to 15 seconds through Instagram's easy-to-use interface. Once you have your video down to 15 seconds, choose a still frame that looks the best, add a filter for interest, and caption the post. If your video is from the inside of your store, you can add your location to the post so your customers can easily find you. Use specific hashtags to gain more exposure for your video, such as #ShopLocal, #PittsburghBoutique and #GiftsforHim. Since you do not have metrics to see who viewed your video, simply gauge effectiveness by engagement.
Ten Indie Retail Video Ideas to Engage Customers
Now that you are ready to shoot and post, we are leaving you with 10 ideas to help you incorporate video in your marketing strategy today!
Walkthrough tour of your brick and mortar store or ecommerce home base
Slow 360 degree view of a new store display
Staff introduction and quick bio – be more fun than formal
Product demonstrations, features and attention to quality and detail
Culture videos – holiday celebrations, store anniversary, special announcements, team building
Live footage from store events, behind the scenes and community happenings
Customer testimonials – ask permission first
DIY tutorials, craft ideas, workshops and hands-on training
Unboxing new product, putting it out on display and narrating details – brand, material, price point
Feature a brand, designer, artisan or favorite fellow local business