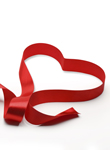 According to the National Retail Federation (NRF), nearly fifty-five percent of consumers celebrate Valentine's Day, with total spending reaching a high of $19.7 billion dollars, up from $18.9 billion in 2015, and $17.3 billion in 2014. Though only a little more than half of consumers celebrate the holiday, those that do celebrate are big spenders. Men spend an average of $196.39 and women an average of $99.87. "As the first major consumer holiday of 2017, Valentine's Day could provide a positive boost in the spending our economy needs," says NRF President and CEO Matthew Shay. "Low gas prices and guaranteed promotions from retailers large and small should help consumers as they look for the perfect gift for their friends and family. Looking ahead, we're optimistic consumers are in a good place when it comes to spending on discretionary items like gifts."
Who They're Buying For
Spouses and significant others are the recipients of most of this holiday's spending. According to the NRF, just over ninety percent of consumers buy something for their partner. In addition to spouses and significant others, consumers will spend an average of just under thirty dollars on other family members, seven dollars on children's classmates and teachers, and six dollars on co-workers. Like many other holidays, our furry friends are not left out. Consumers spend roughly $680 million on their pets each Valentine's Day.
The Perfect Gift
Candy and chocolate are still a favorite for this holiday. About fifty percent of consumers purchase candy for Valentine's Day, spending an average of twenty-six dollars each. Nearly half of consumers also purchase greeting cards, spending just over seventeen dollars. There are many cost and space effective floor and counter displays to easily incorporate these classic holiday staples into your store.
An increasing number of consumers are also gifting experiences and activities that can be done together. "With the winter holidays behind us, consumers may have a little more room in their budget to indulge on gifts for their loved ones," said Prosper's Principal Analyst Pam Goodfellow. "We expect consumers will look for unique and creative gifts, including that extra special 'experience' that can be shared any time throughout the year. Even those on a tight budget can find affordable ways to create a special moment with each other even past Valentine's Day."
Incorporate this trend into your store by putting together date night packages, which can be anything from board games, movie bundles, recipes, and more. Though consumer spending is increasing for this holiday, buying for your store does not have to break the bank. Take items you would typically stock in your store, package them together with holiday-specific candy and novelty items in gift baskets, and arrange in an eye-catching display to create one-of-a-kind Valentine's Day gifts.
Nearly a quarter of shoppers are looking to give the gift of an experience, and a combined thirty-five percent will be shopping at local and specialty stores. With some thoughtful planning, there is plenty of opportunity to boost your first quarter sales in 2017 with Valentine's Day selling.