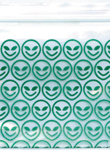 While business expansion is an indication of success, VBag Packaging's newest distribution location in Chicago instead speaks to the supplier's dedication to its customers. "In today's economy where there is a high cost for raw materials and increasing shipping prices, we decided to open a warehouse in Chicago that would service our Northern tier customers in an immediate fashion. We are better able to keep costs low, as we no longer have to ship from Austin, Texas," explains Ken Krauss, sales and warehouse manager of VBag Packaging. A supplier of a diverse line of zip seal plastic bags and a few open end bags, VBag began manufacturing 20 years ago in China. It was in 2003 that the owners decided to establish a warehouse and distributorship in America, eliminating import costs that were previously part of the customer's expense.
Baggie Variety at Low Value Prices
VBag Packaging's 14,000 plus products are now available to other suppliers and retailers, wholesaling at $1.35 to $2.50 per unit. Among the product lines are zip seal baggies that range small to large in size. Added features like hang holes help retailers market the product on already existing peg boards, while writable white block labeling allows proper labeling of the bag's contents for easier identification. The company also offers novelty designs, including hearts, animal prints, alien images and an extensive line of apple designs. "The bags featuring a design are used primarily for novelty product packaging. We also offer custom designs, but a minimum purchase is required as these projects require more time and specialized manufacturing," says Krauss.  And while the company's product line is primarily an extensive collection of zip seal bags, open end bags are also available in small and medium sizes, with both clear and colorful tints.
Bags can be made with a variety of plastic films, and polyethylene (LDPE), an oil byproduct, is the most common. Like most plastic bags, VBag Packaging's baggie products contain polyethelene. "It is true that the by-product makes our product subject to oil price changes, but in comparison to some of the other alternatives, polyethelene is the more economical plastic for this product. Some greener choices become just as pricey, if not more so than our polyethelene preference," emphasizes Krauss. "Again, our expansion has helped us in cutting these increasing costs for our customers." With customers always in the forefront, VBag Packaging asks for no more than a minimum order of a full case pack, but also accepts orders by the pallet, allowing for possible volume discounts. Shipping charges are not included in pricing, and in order to place an order, customers must create a login on the company website.
For more information:
VBag Packaging Supply
3101 Longhorn Blvd., Ste. 106
Austin, TX 78758
Tel.: 512-832-6666
Website: www.vbagpkg.com