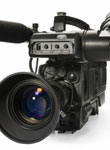 Video is streaming new life into online businesses and giving independent retailers the opportunity to connect with consumers in full-color moving pictures and sound. The web video era is upon us and it's here to stay. In fact, in the next 60 seconds users will upload 72 hours of video footage to YouTube, just as they do every minute, all day, every day. That's a lot of videos, and where there are a lot of videos, there are many viewers. YouTube tells us that more than 800 million unique visitors watch more than three billion hours of video each month. Given the ubiquity of broadband and advanced video streaming technologies for both PCs and smart phones, the bottom line is that today everyone is watching video. Retailers should seize this opportunity and leverage video to introduce themselves, give virtual tours of their businesses, highlight their products and services, and engage their target audiences as never before. Video marketing is on demand and opt-in, so it reaches the right person at the right time, on his or her terms. Marketing just doesn't get more efficient than that.
Nor does it get any cheaper. Professional grade digital video capturing and editing technologies are available in today's consumer grade electronics, so there are millions of camcorder jockeys producing digital video for the web. A web video for your business can be produced for as little as a couple hundred dollars. If you want to incorporate techniques such as a professional voiceover, animation and background music, the cost could be around $500 or more. If you really get carried away, you can hire an agency to develop your concept and spend a couple thousand dollars on the idea alone.
But if you produce your own video, it can be significantly less expensive. You just have to know where to begin. Following are some tips to put video to work for your business, and to leverage the Internet's latest marketing sea change.
1) Assume the Starring Role
Web video allows independent retailers to virtually introduce themselves to potential customers, share their value propositions and tell their unique stories in personable ways. In so doing, they more easily build trust with and evoke an emotional response from the viewer, which hopefully results in sales. If you're too shy to look and speak into the camera, consider filming yourself making a widget, merchandising your retail space or interfacing with real customers. You can always record your voice and use it for the voiceover. In any case, as the business owner, assume the starring role. You'll be surprised at how viewers will respond, knowing that the owner of the company has genuinely put himself out there.
2) Keep it Brief
Your video should be about 30 to 60 seconds in duration, but absolutely no longer than two minutes. While you may be tempted to tell a comprehensive history of your business or even dig into microscopic details of your product offering, don't. While it's true there are those in your target audience for whom more information will most certainly lead to a sale, even they prefer to consume commercial content on their terms. To satisfy these types, you can always provide access to longer, more informational and more educational videos that you make available on your website.
3) Keep it Real
Just as customer reviews are the currency of trust and goodwill online, video testimonials from actual customers are the Internet's equivalent to word-of-mouth marketing. Live, onsite, interview-style testimonials are relatively easy to stage. Recruit one of your loyal customers to display her on-camera charisma. Prospects viewing your video will identify with a real-life person who describes making a purchase decision and being happy with the results. If you can't recruit a customer to get in front of the camera, perhaps ask one to call and leave a voicemail message that can later be used as voiceover in your video. Honest and unrehearsed telephone testimonials are perfectly acceptable, and viewers tend to forgive any lack of production quality, recognizing the trade-off for an authentic review.
4) Steak and Sizzle
There is an old marketing adage that goes, "Sell the sizzle, not the steak." But with its obvious emphasis on keyword relevance and indexing, Internet marketing such as Pay Per Click (PPC) and Search Engine Optimization (SEO) forces marketers to stick with the steak, in order to achieve high-ranking results that match customer-entered keywords. A little too much sizzle can even have adverse effects with such online marketing, but not with web video. Use your moving pictures and sound as creatively as possible. Stress the benefits of your product, service or team, and do it all with great flourish. The point is, include both the steak and the sizzle.
5) DIY or Outsource
For the typical independent retailer, especially one without a marketing staff, stepping up to video can be intimidating. If that is the case, there are many reputable companies available to assist small business owners who desire to get into the video game. Companies such as TurnHere, Lightswitch, Wooshii and many others are capable of producing professional, commercial-grade videos and animations at an affordable cost. Some companies either leverage a network of remote videographers who shoot footage on location, or accept still photos and video footage from clients and then apply their own post-production skills to deliver professional looking videos.
6) Reach Your Target Audience
Once you have produced a great video, you must get it in front of potential customers. Start by uploading your video to YouTube. Do the same at Vimeo.com, Dailymotion.com, Viddler.com, and Veoh.com. Don't overlook these lesser video brand names, as each can generate traffic to your website. Another way to reach your target audience is through video search engine optimization (VSEO), a cottage industry for doctoring up keyword relevancy. Human-authored video metadata can (and should) be created for each video to increase its search engine visibility. At its best, proper VSEO can assure that your video achieves the highest ranking possible on YouTube (the world's second most popular search engine), and perhaps even reach page one of Google (the most popular search engine).
Independent retailers certainly can take on the task of VSEO, or many companies such as OurBizSpace are experts at helping optimize video campaigns for small businesses. Prices can vary greatly, depending on comprehensiveness of services offered and the competitiveness of your specific geographic marketplace and business category. Whether it's a DIY project or an outsourced program, your VSEO strategy must consider the long-term.
Although web video is not new, its use among independent retailers is fairly limited, so now is the time to take advantage of this opportunity. Working to edge out your competition online is no easy task, and video can help. It's easy, the price is right and help is there if you need it. Now is the time for lights, camera and action!
Vladimir Suhadolnik is a web video expert and principal with STORYWORKS Video Production & Marketing. The company's products and services help small business customers take full advantage of web video to increase the quantity and quality of their online leads. Suhadolnik can be contacted at storyworksvideo.com, or call 858-356-4046.