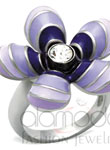 Alamode Fashion Jewelry, at AlamodeOnline.com, wholesales a vast array of high quality merchandise, including thousands of rings, bracelets, earrings and pendants. Mike Tsao, president, started the family owned firm in 1987. Jewelry is available in an assortment of materials, including brass, stainless steel, sterling silver and white metal; a variety of platings such as gold, rhodium, two-tone and antique; a range of stones from cubic zirconia to semi-precious and crystals; and a mix of colors, shapes and prices. Buyers also can customize orders and design their own products.
The company's associate factory in China has the most advanced assembly line available, and can produce more than one million units of high quality jewelry per month. While jewelry prices range from less than $5 to more than $50 per piece, Alamode wholesales many products in the $3 to $5 range. Retail can be three to six times wholesale pricing, says company representative, Rone Lin, and the minimum purchase is $100. "What sets our company apart is our competitive pricing, high quality jewelry and good customer service," explains Lin. "We sell wholesale all over the world and buyers trust us."
Plating is an important element in the quality and wearability of Alamode Fashion Jewelry's merchandise. The company often uses rhodium plating for its shine and durability. Unlike other manufacturers that use rhodium substitutes, Alamode uses high quality German ingredients, and plating lasts longer than other manufacturers'. With gold plating, Alamode uses a thicker layer, for longer life. The lifespan of plating depends on how jewelry is cared for, as well as environmental factors. In addition to high quality plating, Alamode uses top grade crystals for stones below 2.5 mm because their sizes and quality are more stable. Crystals are imported from Austria, and cubic zirconia stones are produced in Austria, the US and China. The company says it invests large amounts of money in continuous improvement, research and production techniques, to ensure high quality products.
Customer service is of utmost importance at Alamode, Lin notes. "We ship in-stock merchandise the same day, we take special orders, and give volume discounts," she points out. For example, on orders of $300 to $500, the company offers a 5 percent discount, and on orders of $5,000 to $10,000, it offers a 25 percent reduction. Beyond that, discounts are negotiable. To help buyers get started, Alamode has a ring starter kit with various combinations of silver, brass, gold and rhodium pieces. "Some customers buy from us and sell wholesale themselves, and so our kit helps a lot of customers who are interested in doing business to start out," Lin explains. "A tray is 72 pieces, so people have an opportunity to try the market."
"Stainless steel rings are becoming very popular now, because silver is getting very expensive," Lin adds. "And gold color jewelry is increasing in popularity, but the prices for gold are expensive. We have a new technique coming out for gold plating that I think will be popular. Our gold plated rings are going to be very competitively priced," Lin adds.
Alamode's complete line can be viewed, along with wholesale pricing, at its website. AlamodeOnline.com is user friendly and provides full functionality. The website displays the massive inventory by product category, and also enables users to find what they need with menu options, including Top Sellers, New Arrivals, On Sale and other features, as well as by price point, plating, stone and more. Retail buyers can go online and create a wish list, make purchases and track orders. AlamodeOnline.com offers several promotions throughout the year, including holiday specials, a three percent rebate program, bi-weekly specials, limited offers and clearance prices, all clearly posted. With a massive product line, dedication to customer service, constant updating of products and attention to website details, Alamode plans to continue to top the competition.
For more information:
Alamode Fashion Jewelry/AlamodeOnline.com
10152 Chapman Avenue
Garden Grove, CA 92840
Toll Free: 1-800-622-4404 (US Only)
Tel.: 714-636-4237
Website: www.alamodeonline.com