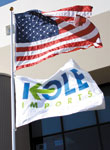 For the Kole brothers, co-presidents of Kole Imports, the ASD show in August is an opportunity to reassess their rebranding efforts since adding closeouts to the company's inventory. The process began after Kole was established as a prominent dollar item company, and after much progress, Kole comes to ASD as a leading force in the closeout market. "Over the past couple of years, we have become one of the foremost closeout companies in the United States," says Rob Kole. "At the show, half of our 35 booths will comprise closeouts. With the economy being where it is, we've capitalized on the opportunities presented to purchase closeouts and liquidations." Another recent shift was becoming a stronger force in items falling in the $3 to $15 price range. In addition to closeout selections, Kole will have several booths of items in this price range, which establishes the company as one of the bigger dealers of that price point at the ASD show.
The company stays in peak condition, even in the busiest days before the show, primarily because it has so much history with ASD. In order to maintain quality control of customer service and remain cutting edge while it grows, Kole Imports has employed the use of handheld mobile devices that are much more than the average mobile POS. Every booth employee is able to pull up information to help prevent confusion and ensure a smooth transaction. "So when our customers come to us, not only can we give them real time information about the inventory we have with us at the ASD show," says Kole, "but we can also bring up their purchase history as well. It helps us assist customers in their purchasing process."
Kole Imports is dedicated to the details, Kole explains. As online sales represent an increasing percentage of Kole profits, the company has invested great care in updating its site. Customers can confidently load their shopping carts and know the site will not let them place an order for products that are not available to ship immediately, resulting in nearly 100 percent order fulfillment. In addition, Kole Imports' online system allows customers to access their purchasing history and profile, which can be very useful.
"We have to make sure we help our customers become profitable, so we sell great quality for a great price, get great freight rates, and give customers solid recommendations," Kole points out. The company even goes as far as to recruit its own team of artists to produce unique and inviting packaging. "It's all about making sure our customers do well when they buy from us, because we know that an outstanding experience results in loyalty." Kole applies the same philosophy to its interactions with merchandise sources. Because of the increased dealings with closeout merchandise, the company is more vigilant than ever about paying every bill within 48 hours of ordering. Kole Imports is determined to keep up its end of the bargain, no matter which side of the sale it takes. At ASD, Kole Imports can be found on the upper level of South Hall, at booths SU1000 through SU1011, SU1100 through SU1106, and SU1111 through SU1118.
For more information:
Kole Imports
24600 Main Street
Carson, CA 90745
Toll Free: 800-874-7766
Tel.: 310-834-0004
Website: www.koleimports.com