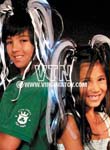 It takes constant innovation and new products to keep party suppliers happy, and that's exactly what motivates the Virginia Toy & Novelty Company to keep coming up with newer and better ideas. "Founded in 1998, we're an importer and distributor for retailers and entertainment venues, specializing in light up merchandise," says Jim Weigl, president of the company. "We sell to independent retailers and party stores, as well as other wholesale distributors." With a product line of more than 2,000 skus, Virginia Toy has something for everyone, and the company is particularly pleased about its latest offering, which it debuted at the recent ASD Show. "We call it the 'Noodle Bopper Hat,'" Weigl says. "It's made up of a headband with plastic ribbon and noodles, in a mesh, tube-like material. LED lights inside the tubes light up and flash," he adds.
The Noodle Bopper Hats vary in price, depending on quantity ordered. A single hat is $5.43 wholesale, but for 72 or more the price drops to $2.44 apiece, and retailers are selling them for $7.99 to $15, depending on the venue. "It's being received very well," Weigl says. "It's been one of our top sellers for the first quarter of this year." Virginia Toy & Novelty also has other light up headgear, including a tentacle top hat, wig and skullcap, as well as light up headbands, all similarly priced as the Noodle Bopper. "We offer same day shipping, and there's no minimum order, as some customers have indicated they'd like to order just one item as a sample," Weigl says. "Our best and most successful customers are the ones who talk to us and understand the business trends. We encourage them to create relationships with our salespeople, so they can stay on top of our latest offerings."
For more information:
Virginia Toy & Novelty Co.
2503 Squadron Court
Virginia Beach, VA 23453
Tel.: 757-313-7000
Toll Free: 866-708-8697
Fax: 757-313-7007
Email: sales@virginiatoy.com
Website: www.virginiatoy.com