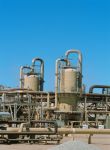 The nation's largest retailer is taking further steps toward an environmentally sound business model–specifically by evaluating its supply chain. Wal-Mart announced on Thursday that it planned to cut as much as 20 million metric tons of greenhouse gas emissions, which would be the environmental equivalent of taking 3.8 million cars off the road.
In order to achieve this goal, the company's suppliers are being asked to rethink the manner in which they source, manufacture, package and transportgoods with the highest embedded carbon. Among these specific product categories would be things like milk, bread, meat and clothing. However, the cost of making these products greener, Wal-Mart makes clear, will fall squarely on the supplier, and not the mega-chain itself.
The move will most likely result in higher profits for Wal-Mart, driving down the costs of the supply process. These savings could, in theory, be passed along to the consumer. Wal-Mart indicated that it is only interested in working with suppliers who share their philosophy on this issue, however they also stated that participation in this effort would not be mandatory.
"You can't argue with asking companies to reduce packaging," said Stacy Mitchell of the Institute for Local Self-Reliance in an interview with the New York Times. "But if durability is not part of what matters in retailing anymore–and Wal-Mart arguably has been the leader in making that the case–that's something we have to grapple with."
Organizations like the Environmental Defense Fund, the Carbon Disclosure Project, ClearCarbon and PricewaterhouseCoopers will be advising and assisting Wal-Mart and its suppliers in this new initiative.