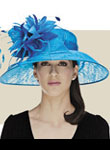 Winter is a thing of the past, as temperatures rise and customers look for new warm-weather styles. The upcoming summer season's accessory trends are cheery, fun and easy for your customers to incorporate into almost any look.
High style hippie
There's something about warmer weather that brings out everyone's inner flower child.  Many of this season's accessories have a touch of hippie cool to them. The key is moderation and balance. Choose pieces that subtly reference the bohemian, to avoid giving customers a costume look. Headbands have made a huge comeback, and there are so many varieties that every shopper can find one that helps add a little boho chic to their personal style. Also, look for bold jewelry that has hints of exotic travel. For example, accessories like earrings and belts made of bronze coins were seen on several runways.
Bold pastels
According to color authority, Pantone, this summer is all about mixing pastels and bold colors.  The effect is happy, bright and just a bit daring. A possible pairing is Placid Blue, a soft robin's egg color, with Cayenne, a fiery coral shade of red. Accessories are the ideal place to encourage your customers to play with attention-grabbing shades that may even be a bit out of their comfort zone. Advise people to pair neutral, monochromatic outfits with a few accessories of different colors. Imagine how great a simple little black dress would look with a yellow purse and an orchid necklace.
On the fringe
Another pervasive look on this year's runways was fringe. Designers featured it on everything from dresses to shoes. Luckily, there are plenty of chic accessories that also come with fringe benefits. Leather or faux leather bags are a great way to rock this hip trend, and many of the versions seen during fashion week included long fringe and vivid colors. For tamer shoppers, however, be sure to carry neutral bags with short fringe too.  For those that might want to experiment with the trend on a smaller scale, look into earrings with metal or leather tassels. Also, look for lightweight scarves with tasseled edges, for an easy way to add a bit of interest to an understated outfit.
Flora & fauna
This season's flower prints are not your grandmother's florals. At Dolce & Gabbana's runway show, they presented textiles inspired by classic art such as Klimt's sunflowers.  There is a distinctly more artistic, hand painted vibe to this season's floral styles. Many of the prints highlighted stark contrast by using black backgrounds, which makes them come across as a bit more modern. To accommodate the undependable weather, carry some gauzy scarves in watercolor flower prints for a quick and trendy way to layer. For your daring clientele, feature some bold floral hair accessories. Thanks to the young royals, fascinators are back in a big way. A floral headpiece is also a romantic and glamorous option to offer shoppers who are looking to accessorize for a formal event.
Mini bags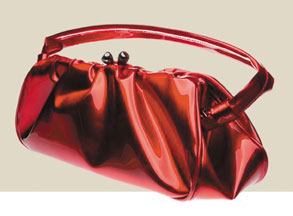 Handbags are being downsized this summer. Instead of the roomy hobo bags of past seasons, trendy customers will be looking for small purses that make a big statement.  Recent runways have seen a mix of both classic clutch shapes and miniature versions of larger bags.  Be sure to pick ones that stand out. The shopper who is in the market for a micro bag is probably not looking to play it too safe when it comes to color or shape.
Accessories offer the perfect opportunity for customers to experiment with new trends and standout designs. Take a few tips from this season's hottest runways to give your clientele a selection of look-making finishing touches.