By Sheppard Morrow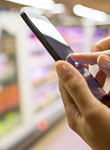 Just as our computers, phones, and music players of today would be nearly unrecognizable to people from ten years ago, the modern consumer would be a stranger to retail marketers of yore.
Commercials, billboards, and other forms of push advertisements fail to impress today's consumer, while phone books and paper maps have all but been forgotten. The modern customer turns to ever-evolving digital mediums for their shopping needs, taking cues from social media posts, online reviews, and email newsletters.
As consumers continue to evolve with technology, small business owners need to change their retail marketing strategies accordingly. If you hope to keep up with the times, your brick-and-mortar business may need a retail marketing makeover.
One of the trends that business owners should be aware of is a phenomenon known as "webrooming." Though many business owners may have feared that the increased availability of digital mediums would weaken sales, this particular digital trend can be hugely beneficial to brick-and-mortar stores.
So what is webrooming?
Webrooming refers to the shopping process that begins online, but ends in a brick-and-mortar location. During the webrooming process, customers start by researching product options and comparing prices online, but make their final purchase in a physical store.
To demonstrate the increasing prevalence of this trend, let us take a look at some recent statistics.
88% of people begin their shopping on computers and phones, but then buy in a brick-and-mortar shop
80% of local searches on phones convert into purchases.
75% of those purchases occur at a brick-and-mortar location and on the same day
63% of those purchases occur at a brick-and-mortar location within just a few hours
What does this mean for your local business? Webrooming provides a tremendous opportunity for local stores to increase sales and expand their businesses. However, you must understand why and how to use digital media to reach target audiences, while maintaining control over your shopper's journey by underscoring your store location as their ultimate end.
How Webrooming Works
Let us take a look at webrooming in practice.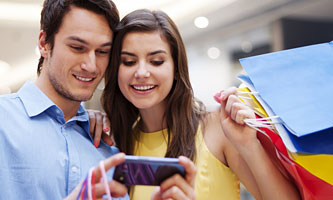 I was contacted by the owner of a retail bike shop a few years ago for a retail marketing makeover. After 20 years of successful business, the shop had begun to struggle. Customers were buying less. For some reason, there was a growing disconnect between what their customers wanted and what the shop was offering. As part of the retail marketing makeover, we recognized one key problem: customers were not returning after buying bikes to buy upgrades, such as new wheels, saddles, and accessories. This was a huge missed opportunity to sell to an existing customer.
To address the problem, we developed a retention campaign that targeted an audience that valued performance. For the campaign, we created copy, photos, and video content about products that could improve the performance of the bike. We distributed the content across the company website, social media, email newsletters, and print mail. No matter where customers tended to gravitate, there was a convenient way to read about and research our recommended upgrades. As extra incentive, we hit our targeted customers with in-store discounts.
The campaign was a success. Customers followed our primarily digital content trail and did their own research online. By the time they entered the bike shop, they were ready to make a purchase. This is a perfect example of webrooming in action. We directed customers to consume digital content in order to research products that they may not have known about before and further motivated their ultimate purchase with the discount as an incentive.
Why Webrooming Works
In the bike shop example, the discount played a major role in driving the purchasing decision for many customers. But webrooming often works even without the additional discount incentive. Even though they are already on the internet and may be able to find the same product for a cheaper price online, customers are still likely to head to a physical store location to make their final purchase. Why?
The tactile experience
A big part of the shopping experience is the tactile experience—the ability to see, touch, and feel a product before purchasing it. This is not possible with online purchases.
Instant gratification
No one wants to wait days or weeks for a purchase to arrive in the mail. When the customer is in shopping mode, they want to have their purchases immediately.
Shipping costs
Studies have found that nearly half of shoppers cite an unwillingness to pay for shipping as reasoning for purchasing in-store rather than online.
Return policy hassles
Similarly, shoppers generally like the idea of being able to quickly and easily return an item to a store.
Brand connection
Consumers like the idea of supporting a local business that they know and trust. If your business is a respected and familiar part of your community, customers are more likely to be willing to pay a bit more for your product.
If addressed strategically, the rise of mobile-supported shopping can greatly benefit brick-and-mortar retailors. Local businesses engaging in a retail marketing makeover can use webrooming to their advantage by developing a strong local presence, and an equally strong online presence to connect with customers at all stages of their shopping journeys.