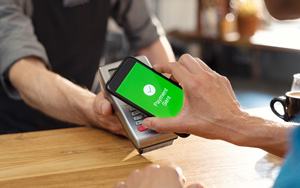 by Jasmine Glasheen
Online shopping may be growing in popularity among today's time-strapped shoppers, but the lure of the brick-and-mortar store still brings out customers' longing for a good, old-fashioned brick-and-mortar shopping experience. Since many small business owners are hyper-focused on bringing foot traffic into their stores, there's one factor many overlook: the role of the check-out process in shaping customer perception.
Since over 70 percent of shoppers say the payment process is what they dread most about shopping in-store, it's important to know what consumers really want when it comes to closing a sale, especially since it can mean the difference between making the sale or losing a potential customer. Let's take a look at ways you can make the payment process as painless as possible.
Give Your Customers Plenty of Options
They say variety is the spice of life, and today's consumer expects small businesses to cater to cash holders, credit card-holders and tech savvy shoppers alike. The pool of payment options is increasingly widening. In fact, a survey of over 2,000 small business owners showed that about one-third of them were planning on integrating a new payment option in the near future.
All of these new payment trends can be a tough cookie to juggle, so look for a payment processor that offers wireless payments as well as a mobile POS system that can help speed up your payment process and keep customer information secure. Most shoppers will also expect your small business to be EMV compliant, so find a POS software solution that offers countertop and wireless options that can be integrated into your indie business with ease.
Embrace Mobile Payment Methods
Most of us can't imagine life without our smartphones, so it only makes sense that payment options are quickly skewing toward shoppers growing dependence on mobile devices. The number of mobile POS systems in retail is expected to triple by 2023, and even one of the country's most time-honored spending events saw an increase in revenue when the Girl Scouts of America started accepting mobile payments for cookie sales.
A mobile POS system not only looks sleek, but it also enables a level of convenience that was unheard of before the smartphone era: the ability to check-out customers from anywhere, thus reducing line wait times and cutting down on cash register congestion. But the benefits of mobile payment don't end there. "Mobile wallet users also cite the security benefits of having account information embedded on their device," says Erica Sandberg with creditcards.com. In an age where cyber hacks are a legitimate concern, you should consider a plastic-free payment option to keep customers happy and private information secure.
Keep Integrity in the Check-Out Process
An efficient manager is constantly looking for ways to cut costs and increase efficiency, but this doesn't mean you should slack on associate training. Most customers are drawn to the speed and convenience of ecommerce shopping, so adopting a swift check-out process that mirrors those qualities will increase efficiency and keep customers happy.
With the growth of the internet and social media, instant gratification has become the rule, not the exception, and having untrained employees who are ill-equipped to complete the checkout process swiftly is a great way to turn off shoppers. Be sure to train your workers for all possible customer scenarios to ensure a speedy checkout process such as returns, refunds, promotions, and discount applications. A customer-facing display is another great way to increase transparency in the payment process – allowing customers to double-check transactions themselves and spot any potential errors before swiping their card.
Bringing It All Together
Many small business owners are so focused on getting customers into their stores that maintaining an efficient check-out process can fall by the wayside. Thankfully, there are some simple steps you can take to keep your customers happy and reduce unnecessary payment headaches. Providing plenty of payment options including cash, credit cards, and plastic-free mobile pay will satisfy both tech-reluctant shoppers and those expecting a 21st-century experience.
Make sure your staff is well-trained on your store's technology, so they can confidently guide your customers through the payment process from start to finish. Consider a customer-facing payment terminal that is easy to use and will increase your customers' confidence in the check-out process. Finally, find a point-of-sale system that is user-friendly, equipped to catch potential errors, and fits the specific needs of your small business. Payment Depot offers a variety of payment processing solutions that will streamline your store operations and get you well on your way to providing a quick, easy check-out experience for your customers.