By Robert Harrow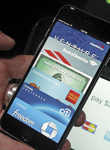 Retailers know there is a major shift currently underway in the payment industry. More and more consumers are beginning to leave their credit cards at home, in favor of keeping digital versions saved in their smartphones. Through the use of technologies such as Apple Pay, Android Pay, and Samsung Pay, individuals can carry out everyday transactions without ever reaching for their wallets. Outside of being popular and trendy, these "mobile wallets" come with their own set of positives and negatives. There are a few major considerations business owners should take into account before deciding whether or not to support this new payment platform.
Improved security over conventional card payments.
Mobile wallets take advantage of technologies that provide more secure transactions. Individuals today are more security conscious than ever – the massive campaigns behind the EMV shift are evidence of this trend. Businesses that support technologies such as Apple Pay and Android Pay are on the forefront of card-payment security, or namely, tokenization.
When your customers pay for a product or service using their phones, their financial information travels in an encrypted packet – a "token" – that is later decrypted by your software when you receive it. If a thief or fraudster were to somehow get their hands on your customer's payment data, they will only have access to these tokens, which are useless without a decryption mechanism. Secure encryption features are just one reason consumers are switching to this new technology, and retailers who offer a mobile payment platform find that it frequently serves as an incentive for some customers to keep coming back their store.
Shorter Customer Wait Times.
Mobile payments are fast, especially when compared to a more conventional payment method. The scene in any rush hour New York Starbucks shop should be enough to convince anyone of the importance of cutting wait time. While those customers who pay for their morning cup of Joe with a card must hand their card to the attendant who then swipes the card through a reader, the customers utilizing mobile wallets just hold them up to the NFC reader and they're done – fast and quick.
Decreasing the time it takes to process each customer should be an attractive feature to any business with heavy foot traffic. Not only will businesses be available to service a larger volume of customers, but those customers will be generally happier due to lower wait times. In this way, mobile wallets can serve to increase customer satisfaction and retention.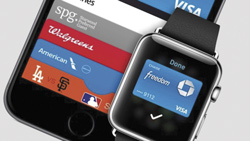 Mobile payment fraud.
On the flip side of things, accepting mobile wallet payments may pose a risk for some merchants. With the surge in mobile wallet popularity, fraudsters are focusing their sights on exploiting this technology to attempt to trick business owners into accepting fraudulent transactions. Staying vigilant and monitoring the transactions that come through your store's account will help deter fraud.
Employee Training and Systems Management.
As with the implementation of any new technology to your business, it is impossible to ignore the time devoted to employee training. Because mobile wallets are an emerging technology, few employees will be ready and trained in how to service customers who pay with this method. As a business owner, you will need to set aside time to fully train your staff and to ensure that you know the ins and outs of the system yourself. By adding to the complexity of your system and adding new card readers you are also increasing the number of possible points in your business that may need troubleshooting. Be certain you understand the hardware and software system components and make sure your tech support person is available for the system rollout.
Costs of Upgrading.
In order to accept mobile wallet payments, your business must have a contactless payment-capable point of sale terminal. Retailers who have recently upgraded their POS may recognize that EMV comes in two major varieties for in-store payments: "contact" transactions, in which a chip card is inserted, or "dipped," into a POS terminal, and contactless payments, where an EMV card or smart phone is waved near to an EMV terminal.  Many of the new POS terminals offer both features, and range in price from between $100 and $1,000 per terminal – actual costs will vary widely based on your store's needs. Generally, the more functionality a new contactless point of sale terminal has, the more expensive it will be.
If your business already accepts credit cards, contacting your merchant services provider is the first step you should take. Your provider should be able to offer you cost-efficient ways to upgrade your reader to support contactless payment-capable readers, as well as provide you with any additional cost estimates and educational resources.
Mobile Wallets Are the Future for Consumers and Businesses.
A 2015 report from Forrester Research estimates that by 2018, up to 20% of US smartphone owners will be using mobile wallets. With such a large segment of the population utilizing this new technology, many customers will come to expect retail stores to support this payment method. As consumers begin to leave their wallets and cards at home, the only way for some merchants to accommodate sales will be by accepting mobile payments.
Forrester Research's report also points to an added advantage inherent in mobile wallets: marketing campaigns. Working together with app developers, business owners can help drive more traffic to their locations by pushing notifications to smartphone users through coupons, or other forms of advertising.