by Andy Eastes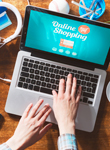 If you haven't noticed the impact eCommerce has been having on retail in the past couple of years, then you might be living under a rock… in the deepest trench of the Pacific Ocean. Every major retailer from Wal-Mart to Macy's has made a push to cater to online shoppers, with tens of thousands of new eCommerce retailers entering the market yearly.
Unfortunately, many retailers new to the eCommerce pool continue to make the same mistakes – hindering their sales and causing many to close up their online shops before they've even gotten their feet wet. Below, we've outlined the top 5 mistakes we see new eCommerce retailers making.
1. Not Providing Guest Checkout Options
Forcing customers to create personalized accounts upon checking out is a major cause of cart abandonment. It's easy to see why the retailer wants to push this: you receive your customer's contact info for future marketing purposes & your customers can quickly check out next time they shop with you. But most shoppers want to purchase without feeling as if they're signing up for a membership. And mobile shoppers don't want to fill out lengthy forms on their small screens.
So, offer the guest checkout. Grab their email address, and add a nice little "I want to receive special promotions" checkbox for them to tick, and you can still market to a large percentage of these customers!
2. Unspecified Shipping Costs
There's nothing more frustrating for shoppers than when they go to check out, believing they know the finalized price, only to get hit with an unexpected shipping charge; a sure-fire way to increase your abandoned cart percentage.
Specify shipping costs from the very beginning, by either listing it, or via a shipping calculator to determine shipping cost by zip code. Take this a step further by offering a deal – such as "free shipping over $35" – to act as both a subtle reminder that there is a shipping fee, and to also increase your average order value.
3. Not Utilizing a Warehouse Management System (WMS)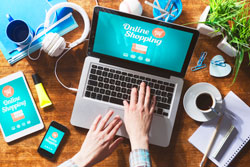 When retailers begin selling their products online, they often attempt to manage their inventory via Excel. But that's not sustainable – spreadsheets are manual, tedious, and time-consuming, and aren't up to the unique challenges that eCommerce presents.
If you're going to maintain both a brick & mortar storefront and an online shop, not to mention listing your products on Amazon, eBay, etc., then how do you decide how many of a given SKU will sell on which channel? How do you make sure you don't stock-out on one channel and have surplus product not moving on another? Worry no longer – that's what a WMS does. It pushes all your available inventory to all of your channels, so you don't have to worry about that sort of thing. A WMS can also help with forecasting, replenishment, preventing picking & shipping errors, and more.
4. Underestimating Customer Reviews
Many new eCommerce retailers underestimate the significance of a poor customer review. According to econsultancy.com, 61% of customers read online reviews before making a purchase decision. Especially as you're growing, work to achieve positive online reviews, and quickly address any negative ones. Reach out and ask what you can do to improve upon their experience – chances are you can resolve this in a way that'll make them, and your review score, happy.
5. Unresponsive Mobile Websites
Internetretailer.com states, "mobile commerce is now 30% of all U.S. eCommerce". If your site isn't optimized for mobile shoppers you're potentially deterring 1/3 of your clientele from shopping on your website.
Load times are a big offender here, as is lack of responsiveness (webpage doesn't adjust to fit the needs of a smaller screen – text too small, etc.). Often minimal & streamlined sites work best for mobile shoppers. Product, brief description, and a clear call-to-action "buy now" button.
Conclusion
As the CEO of a WMS service company, seeing our customers use our product to grow their business is one of the most rewarding parts of the job. We strive daily to not only improve upon our warehouse management software, but to also stay up-to-date with the latest eCommerce trends. We hope you'll get some use out of these tips for success and wish you the best in this eCommerce party.
SkuVault
2540 Ridgemar Circle
Louisville, KY 40299
Tel.: 800-641-4507
Website: skuvault.com