By Meaghan Brophy
"The model of our company is based on factory production, direct to wholesalers and retailers," explains Muhammad Zeeshan Bilal, President of SangSoft Inc. "We offer quality products with no middleman margins by sourcing directly from the manufacturer." SangSoft is fully backed by international manufacturers for not only their products, but also packaging, and product placement. "Our partnerships cut down the cost and smooth the process by bringing best-selling products directly from the factory to retailers," explains Bilal.
SangSoft offers a variety of bedding, bath, and home products. Some of their best selling products include their sheet sets. "Our low prices, soft texture, high quality, and variety of prints are what make our sheets top-selling," says Bilal. SangSoft has a wide selection of cotton sheets. "Most other companies do 100% polyester," says Bilal. "Our prices are the same as our polyester competitors. Polyester can feel soft because of the finishing, but the finishing washes away and the quality of the product diminishes. It's almost a disposable item," says Bilal. SangSoft's sheets come in many color and pattern styles. "Gingam, stripes, and plaid prints have all been popular this year," continues Bilal. However, their newest and best-selling style is the solid sheet with contrast piping. In addition to sheets, SangSoft offers a wide variety of trendy duvet and one-piece comforters. For their comforters, "print is a better seller," explains Bilal. "It's a good way to bring fast fashion in to bedding."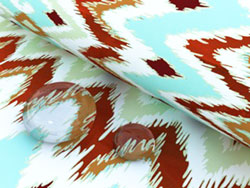 From their bath collection, SangSoft offers a popular metallic printed shower curtain that is new for 2016. "They really stand out, and it's something different," explains Bilal. With metallic and tone-on-tone designs becoming increasingly popular, these types of curtains typically retail for a high price in large chain stores, meaning independent retailers can have a very high profit margin from these types of items. Sangsoft's recommended retail price is a 50% markup from the wholesale rate. "If you really want to move a lot of items," explains Bilal, "sheets and shower curtains could be a 40-45% markup. But duvets and comforters should stay around 50% because of their bulk."
Opening orders with SangSoft typically require a palette minimum. However, they can also sell by the case and by the truckload depending on the retailer's needs. Shipping costs vary depending on order size. For orders by case, the retailer pays shipping costs, shipping by palette is cheaper, and shipping by truckload is the most cost-effective option. SangSoft is also able to customize the packaging for each individual retailer. Buyers can run their own name on the products, and SangSoft can customize packaging based on the retailer's model.
Above all else, SangSoft aims to provide quality, innovative, and stylish products at a low cost. "There is no innovation in the bedding industry," explains Bilal. "We are looking to change that and bring in variety. We want to bring fast fashion into bedding the same way it is in garments."