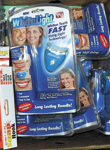 Many wholesalers promise that they have every product a retailer might need, but Discount Wholesalers is true to its word, acting as a one stop shop to meet retailers' multiple product needs. Well known for its supply of thousands of everyday necessities in the categories of general merchandise, health and beauty, cosmetics, and paper products, the wholesaler is now offering extensive lines of clothing, shoes and domestics. However, it isn't just the selection that keeps executive sales manager, Saja Stark, busy all day. "Our products sell because we move them at heavily discounted prices that make the merchandise even more valuable for our buyers," Stark explains, adding, "For example, an item that might manifest in a store for $2 and would normally wholesale for $1, we have available for 40 cents." This is the case for all of Discount Wholesalers' rapidly evolving inventory, available to buyers at 25 to 65 percent of the typical wholesale price.
Discount Wholesalers Bigger and Better in the New Year
The wholesaler also leaves an impression on its buyers by implementing best practices. Low prices, quality, availability and organization are expected from the company and have been key in making sales. Discount Wholesalers is working towards fulfilling its New Year's resolution of even faster turnaround times, as well as easier and more shipping options. Already making headway in keeping this resolution, the company has opened a new FOB point in Atlanta, GA, providing southern clientele with an opportunity to save on shipping. "We are all about streamlining processes and operations, making it easier for us and our buyers," says Stark.
Another goal for the year is to offer cleaner products, removing store returns and damaged goods from the pallets available. "We take a great deal of pride in offering clean, new, name brand, Made in the USA, original cased and shelf pulled products. Basically, the names people are looking for at a small fraction of their original value," Stark emphasizes. "We offer goods by the case, pallet and the truckload to accommodate customers of any size, regardless if they are around the corner or on the other side of the world."
Helping to achieve these goals is the company website www.discountwholesalers.com, which provides an online space to efficiently and effectively showcase every item the company offers. Customers are presented with categories for easy identification, as well as product visuals promising, what you see is what you get. However, Stark confirms that while manifests may be accessible online, they are more or less an example, as inventory is constantly rolling in and out of the warehouse. "It is suggested that buyers look online first, but follow up with a call to obtain the most up-to-date manifests," Stark says. Simply stated, Discount Wholesalers' online presence helps keep necessary product information together in an organized manner for visitors and buyers to access, allowing for a smoother operation when searching for a product, placing an order, or prepping for shipment.
For more information:
Discount Wholesalers Inc.
1985 Toconderoga Blvd Ste 27
Chester Springs, PA 19425
Tel.: 610-458-1131
Website: www.discountwholesalers.com