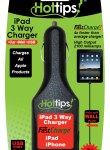 With all the electronic gadgetry people are using these days, it makes sense to offer a way to keep them up and running 24/7. That's what prompted Navajo Manufacturing to develop its new line of "Hottips' products. "This started as a cell phone charging system, and has grown from there," says Brent Paine, marketing specialist with the company. "We're now on our third generation of these products, and we're very excited to be able to offer them," he adds.
For example, Navajo has four-way chargers that can charge about 99 percent of the electronics currently on the market. "It's a very sleek design," Paine says, "that can plug into a wall outlet, or your car's cigarette lighter, and it also has a 9-volt emergency charger available, or it can charge right off your computer." What makes this system unique is that it has two USB ports, and 1,000 milliamps of charging power for faster charging. "This unit charges twice as fast as older chargers," Paine says. While declining to disclose the wholesale price, Paine did say the MSRP is $19.99.
Navajo is also offering a 150-watt power inverter that adds a standard electrical plug off your car's cigarette lighter, providing 110 watts of power in the car, which retails for $24.99. Plus, the company has a new three-way charger for the iPhone, iPod and iPad. "It supplies 2,100 milliamps for charging," Paine says, "and one charger fits all three." It retails for $19.99. Navajo has also debuted a new 4-gig flash drive in an attractive style with a fold-in body that curves around itself, with an MSRP of $15.99.
Another unique offering is solar batteries, in both regular and mini sizes. "They can hook up to phone to collect solar rays, which then converts those rays to power, to charge your cell phone," Paine says. "It's pretty handy when you're outdoors and away from a power source," he adds.
Minimum orders from Navajo Manufacturing are $350, but with an order of $1,500 or more, the company will pay the shipping charges.
For More Information:
Navajo Manufacturing Co.
5330 Fox Street
Denver, CO 80216
Tel.: 303-292-3090
Toll Free: 800-525-5097
Websites: www.navajomfg.com