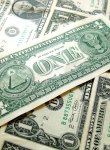 Dollar General Corp.'s profit more than doubled in the fourth quarter, same-store sales rose 3.8 percent, net sales climbed more than 9 percent and same-store customer traffic and average transaction amounts increased in both the 2010 and 2009 periods, the company has reported.
Since the recession started, dollar stores have been stealing sales away from traditional discounters, The Wall Street Journal's MarketWatch reports. During the grimmest days of the downturn, even low prices at bargain stalwarts like Walmart Stores Inc. weren't low enough for the hardest-hit consumers who lived from paycheck to paycheck and flocked to dollar stores. This dovetailed with dollar stores sprucing up their merchandise, building inventory, and expanding locations, generally increasing popularity.
The news comes as retailers are performing a delicate balancing act. They are trying to keep inventories tight and encourage shoppers to pay full price even as profit-eroding promotions tend to be a major driver of sales. Janney Capital Markets analyst Adrienne Tennant said warmer spring weather had been bringing shoppers into stores, but "demand continues to rely on promotions and retailers across the mall continue to offer discounts on clearance merchandise."
For more on this story, click HERE.