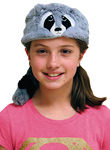 Wild animals are good for business—especially if they're perched on a hat.
Wilcor, a distributor of camping and outdoor lifestyle products, is excited to expand its line of wild animal hats this year, according to David Corrigan, vice president of sales. The line was introduced last year and did so well that the company is introducing a whole new menagerie of animals.
"These are faux animal skin hats with a little face in the front and tail," Corrigan says. "They're not like anything I've seen in the market before. People love them."
This year's new designs include an alligator, dolphin, moose, shark, whale, and other animals. They join the existing line-up including a black bear, fox, skunk, beaver, raccoon, leopard, tiger, giraffe, and monkey. All of the designs were created by Wilcor and are exclusive to Wilcor.

"The hats are unique because they have a cute animal face on the front," Corrigan relates. "They're basically an update on the Daniel Boone hat, with the raccoon tail hanging off the back." These hats are ideal for gift shops located in zoos, amusement parks, campgrounds, and anywhere people interact with the great outdoors.
Commitment to retailers
Wilcor is happy to help retailers design an effective retail program, and choose products that are appropriate for their stores, as well as give ideas on displaying and selling products. "When we help a store choose products, we look at the location and why people are coming there," Corrigan advises. "Is it a destination? A drive-through attraction? A river, lake, or mountain?  Do people come there to hike? The main thing we try to do is understand the dynamics of the store, and why people are going there. We have looked at the store layout to help maximize their traffic flow to increase impulse sales. Wilcor can also help with ideas for displays, and provide displays in some cases.
Buying details
Wilcor's complete line of products, including the new animal-themed hats, are available through the company's website or by phone. The hats are packed 36 to a case and priced at $5/each. The company is happy to break down whole cases and provide a mix of animal types for smaller accounts. "We can provide a variety," Corrigan says.
Buying from Wilcor is simple. Retailers must be qualified as a business, and can buy from the company's password-protected website or place orders by phone. Free shipping is available based on region and minimum orders.