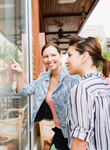 The gift and souvenir market is big business. According to market research firm, First Research, the gift and souvenir market totaled about $18 billion in sales in 2013, spread among 30,000 stores in the category. Even including a few giants like Disney and World's Largest Gift Shop in Las Vegas, it's a highly fragmented market, dominated by smaller shops spread among every segment of the tourism industry, from campgrounds to zoos to theme parks, and an equally large number of manufacturers and distributors; and the competition is fierce.
"The profitability of individual companies depends on effective merchandising and the ability to generate store traffic," according to First Research. "Gift stores compete with a wide range of businesses because they stock merchandise across many categories. Major competitors include mass merchandisers, department stores, Internet retailers, home shopping channels, warehouse clubs and toy stores."
This intense competition for consumer dollars is why Donna Steakley, director of tourism at Fossil Rim Wildlife Center in Texas, is using every trick she knows during the redesign of her new gift shop, and judging from her results so far, she must be doing something right.
Tragedy turned into opportunity
If it's true that every time a door shuts a window opens, then Steakley has an awfully large window in front of her. She is currently planning the construction of a huge new gift shop after a fire destroyed the old shop in early 2013. Like all destructive events, the fire was initially a costly tragedy, but it was also an opportunity. With a fundraising drive in place, Steakley has the rare chance to build a successful gift shop from the ground up, incorporating everything she's learned over her years in the souvenir business. "We're starting totally from scratch, which is a great opportunity," she says.
There was no option of shutting down Fossil Rim's gift shop for a year or more while a new facility was being built. Instead, Steakley moved the gift shop operations into a trailer on the property. You'd be forgiven for assuming this would hurt sales, because how many attraction visitors want to shop in a trailer? It turns out a lot did, in part because Steakley used a technique that is fundamental to success in her market: she kept the trailer stuffed with new stock.
"Low inventory is the biggest mistake gift and souvenir shop owners make," Steakley advises. "We had this trailer after the fire, and we were filling it with inventory five times a day. We were so successful that I was worried they were going to keep me in a trailer!"
This single piece of advice is repeated over and over when you talk to experts in the business. And it's not enough to simply keep the shelves full. You have to rotate stock on a regular basis, moving out old products that didn't sell, setting up new displays, and bringing in new items of interest, even including pet goods.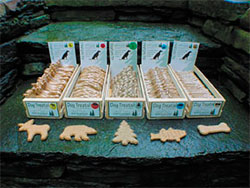 "A lot of successful gift shows have a pet program," says Jean McCarthy, owner of North Woods Animal Treats. "The pet industry is one of the largest growth markets, and people love to take home souvenirs for their pets." North Woods makes a line of pet treats that are perfect point-of-sale impulse purchases for pet owners who miss their pets back at home. Overall, keeping your inventory fresh is important, because even at large destinations the 80/20 rule often applies: 80 percent of your sales will come from 20 percent of your visitors, and many of them will be your year-round members and repeat visitors. As a result, it's crucial to keep them interested with new product offerings.
Keep your traffic flowing
Keeping the shelves loaded and refreshed is great, but you also need to think about how to get people in front of the shelves. This is where merchandising comes in. The layout of any particular shop depends on the store: its size and shape, how it's situated in relation to the rest of the attraction, the products it sells and the traffic it attracts. But there are some general guidelines that help.
"Kids tend to run toward plush," Steakley advises, "so you want to put that in the back so the kids get in and run to the back of the shop, and the parents have to go through the whole gift store to get them." You also want to think about the general traffic flow from product area to product area, so there's a more natural flow from home goods to gifts to accessories to apparel, or whatever your product categories are. And remember that customers are naturally drawn to color, so use lots of color in displays and look for ways to draw attention to your big sellers, such as T-shirts and custom items.
It's also a good idea to put big sellers and impulse items near the cash register, as well as minor "necessities" like water, umbrellas and ponchos, or other gear that people might want or need at your attraction. "The successful souvenir and gift shops have a wide variety of quality products at a variety of price points," agrees Tagg Bowman, account developer at Safari Ltd. "They make the best use of the available space and keep the store clean."
Custom job
When it comes to buying products, there's no question that customization should be central to your buying strategy. The range of products that can be customized is steadily expanding, which is great for gift and souvenir shops in every environment. "Customization is very important," Steakley insists. "Every time a guest leaves with something that says 'Fossil Rim,' it's free advertising for us, and it's the best kind of advertising."
SJT Enterprises has firsthand experience with customized products. The company sells a line of plaques that can be customized to specific areas or activities, as well as a very popular line of dog breed plaques. "The plaques that are customized to certain areas do well," says Tim Smith of SJT. "We have over 9,000 images and pieces of artwork we can use on plaques. You name a destination and we have it."
Staying on trend
Even if you don't rely on customized products, it's still a good idea to stay on point with new consumer trends. Last year, for example, was a big year for fashion jewelry; anything neon or Day-Glo, and products made in America. "I'm excited about made in America for this year," Steakley says. "More and more people are wanting made in America products, and I'm hearing it from customers. It's coming back." Susan Mills, International Gift Exposition in the Smokies co-owner, reinforces this point. "Throughout the world, souvenirs are sought after by travelers who want a reminder of a cherished trip or experience. Sales help strengthen local economies worldwide, and consumers, especially in the U.S., are interested in that."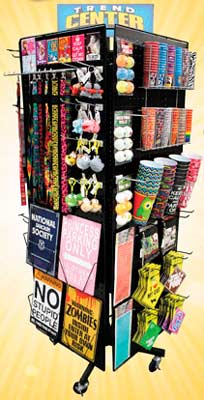 While buyers have cooled off on the neon craze a little, it's still a major force in the gift and souvenir business. Scott Kalan, president of sales at Kalan LP, has seen sales of customized neon mugs skyrocket in recent years. Kalan specializes in gifts and novelties, with a focus on humorous products, because, "it's good to be funny. It's not enough to just carry a mug that says 'Las Vegas' or whatever the destination is," Kalan advises. "The best shops are keeping up with all the trends, so we've seen a lot of neon mugs in the last few years because that's very popular."
No matter what's trendy, virtually every gift shop should make room for the perennial favorite: T-shirts. Printed T-shirts, customized or not, are a major seller in almost every gift and souvenir shop. The same applies for plush, which finds enthusiastic markets beyond children, as adults frequently buy small plush items to memorialize their vacation or visit. "There are certain products that are always going to sell well," Kalan says. "These include T-shirts, mugs and glasses, and plush animals are also hugely important."
Get the most from tradeshows
All these tips are tied into one of the bedrocks of the gift and souvenir market: the tradeshow. Although there are many tradeshows, the two biggest are must-attend events for many gift and souvenir shop operators: the Las Vegas Souvenir & Resort Gift Show (Sept. 29 – Oct. 2, 2015), and the International Gift Exposition in the Smokies (IGES) in Gatlinburg, Tennessee (Nov. 2 -7, 2014). Savvy retailers know these shows are the best place to find the newest and coolest products, as well as connect with custom companies and stay connected to the pulse of the industry.
"There is no other place in the world where souvenir buyers can see such a concentrated number of souvenir vendors and products, all at the same time in one trip," says Rick Conway, president of Squire Boone Village, of the IGES show. For many buyers, attending a tradeshow is a major investment in both travel time and expense, so it's important to get the most from your visit. This usually means having a plan ahead of time, and keeping an open mind.
"I enjoy the Las Vegas show and love the Tennessee show," Steakley says. "It's so much fun, but I think a lot of buyers make the mistake of not walking the whole floor before they start buying. You need to walk the whole show to get a grasp of what's going on. When I go to a show, I don't even make appointments that first day. I just walk the whole floor." "Bring a second pair of shoes," agrees McCarthy at North Woods Animal Treats. "When I'm at a big show, I change my shoes every few hours so my feet don't hurt."
Sellers also recommend setting up appointments before the show, and staying in touch with sales departments of companies you want to work with. If you're planning on placing any type of complex customization order, it can really help to make plans long before the show doors open. This is especially important, because product lead times can be measured in weeks and possibly even months, depending on the size of the order and the product. Most gifts and souvenirs are manufactured in Asia, so the sooner you can place an order, the faster you'll be stocking your shelves with new products.