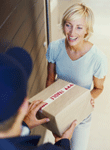 With the U.S. Postal Service (USPS) facing an $8.3 billion budget shortfall because of the influx of email communication and online bill pay, the USPS has requested for five-day service, eliminating Saturday delivery. The USPS claims a revamped work week could potentially promise $3.1 billion in savings per year (later analyzed by the Postal Regulatory Commission to be an extensive implementation that would only save about $1.7 billion). If Congress does decide to change the appropriation law of six-day delivery to five days, what does this mean for retailers working closely with the USPS to deliver products, purchases and catalogues. Online retailers large and small incurring the costs of shipping for their customers are faced with some hard decisions ahead.
Shipping Is Part of Keeping a Customer Satisfied
According to Luke Knowles, CEO of FreeShipping.org, "The volume of packages from all online merchants has increased steadily, with some estimating a continued growth of about three percent per year." And with retailers online and in-store fighting for consumer attention during the recent economic crisis and now, fragile recovery, free shipping has become a regular promotion in an effort to bid for customer attention. Most B2C e-tailers eating these shipping costs depend on the USPS for six-day delivery, a service not offered by FedEx or UPS, which are also generally more expensive.
What Choice Does a Retailer Have?
Comscore found free shipping served as a strong incentive for shoppers to buy more, one of the obvious benefits so many retailers have decided to offer the promotion. "Orders with free shipping tend to average roughly 30 percent more in total money spent than when shoppers must shell out a few bucks more for delivery," says Comscore. "In fact, a May 2011 study revealed 61 percent of consumers would likely cancel their entire purchase if free shipping wasn't offered." So what choice does a retailer have other than to pay the extra expense for FedEx or UPS for expedited service? Unfortunately, there is no choice, unless you are willing to risk customer satisfaction on a later delivery by the USPS.
In a forum on autionbytes.com, one retailer mentions that they would rather pay high rates, which would still be less than FedEx and UPS, to keep the six-day system and  to avoid a slowdown in delivery, saying, "We mail a lot of packages on Saturday with the expectation of Monday delivery. That would now be delayed to Wednesday. Customers expect rapid delivery with normal service. The Canadian system went to five days and mail to them now takes 10 to 20 days for first class packages." Regardless of the decision, those with budgetary constraints may have to eliminate their free shipping offers and go back to the drawing board on promotions, such as the use of coupons, rebates, limited time offers or free gifts for purchases over a certain amount.