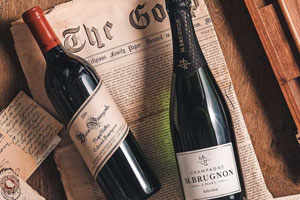 Managing customer personalization and developing a strong connection is key for retailer growth in 2022. Wine Access, a leading direct-to-consumer online wine retailer, saw a sharp increase in demand and achieved double digit growth in 2020 when many businesses were struggling to stay afloat. Joe Fisch, the CEO and CFO of the brand, shares what led to this boost in business.
"In 2020 during those first few days of the shutdown, everyone was scrambling and trying to make sense of what was going on," Fisch said. "Then about two-to-three weeks after the shutdowns, we saw a pretty rapid rise in wine consumption. Wine Access, being an online platform, grew in 2020 and saw really high double-digit growth. That is a big shock to your system, and you do not know how long it will last, but we benefited greatly from high volume from figuring out internally how best to ride that wave and combat any issues that came up."
Creating Long-Term Customer Relationships
This is a key factor in order to grow your business, and according to Fisch, there are many different ways that Wine Access creates long-term customer relationships. The first is through wine curation — the brand makes it their goal to ensure all consumers love the wine that they buy, and if they do not, Wine Access will give them credit for that bottle in order to find another one that better suits their desires. The second is content — it is so important for every retailer to have robust online and social media content to give shoppers something else just besides the products that you sell.
"The last is customer satisfaction," Fisch said. "The key value of our company is that we take care of our customers. How can we help make their day? That is why we have amazing wine curation to put the best possible wine in front of that person. If they need additional decision making points, we have a Napa-based customer team they can call anytime. Ultimately, we try to build that trust."
According to parcelLab CEO, Tobias Buxhoidt, communication is key to creating lasting relationships with customers. In 2021, many shoppers were left frustrated from a sense of uncertainty and feeling left out of the loop when it came to their packages. This year, shoppers are bringing heightened expectations for retailers to communicate better and offer more transparency around the shipping journey.
Handling Shipping Challenges
On top of the supply chain issues every retailer is currently facing, owning your own wine business comes with its own set of shipping challenges. The main concern is that an adult signature is needed at the time of delivery, but there is also the matter of temperatures. For example, if Wine Access is shipping to a customer in Arizona, they need to communicate properly with the shopper so they are aware the wine could be compromised, or they could opt in to have ice packs included to make sure the wine arrives at an optimal temperature. No matter the problem at hand, Wine Access makes sure they communicate with the consumer.
"Email communication remains one of the best ways for retailers to surpass expectations," Buxhoidt said. "Retailers that master the post-purchase email strategy gain access to invaluable touch points at every part of the shipping journey, including opportunities to address negative situations, like delays, before they become irreversible. In fact, our recent data revealed that customers eagerly await these shipping confirmations and status update emails, with an astounding 148 percent email open rate, showing just how great the opportunity is to reach your shoppers and address their needs."
Wine Access has been so successful with their customer service, that they have been named by the New York Times as the #1 Wine Club in the USA, as well as one of the top five online retailers by Wine Enthusiast. If you follow these tips, your brand can be just as successful.