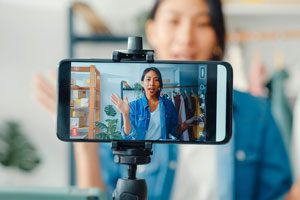 by Mark Hook
Over the last 20 years, we have seen social media shift from simple, text-based updates to increasingly visual content, championed by app-based platforms like Instagram and Snapchat. Now, new entrants such as TikTok and Pinterest are taking the trend even further.
Social media now goes way beyond communicating with friends and family. The impact and growth of social media brands play a huge part in what we see on our newsfeeds — and with that, social commerce has flourished. Social apps that already allow for commerce include Instagram, Facebook, and Pinterest, but TikTok and Twitter are also experimenting with shopping features.
Social Commerce – Why You Should Care
Social commerce is a $89 billion market right now, and is projected to grow to $605 billion in the next seven years. eMarketer predicts social commerce will rise by 35 percent to $36.09 billion in 2021 alone. Social is becoming a primary research tool for shoppers with many channels, including Instagram, acting as discovery engines for brands.
According to Instagram, 60 percent of consumers discover new products on their platform, and users say that when they were inspired by something they saw, they would take steps to find and buy it straight away. Consumers also love the ability to browse and buy products within different digital environments, often as their preferred buying channel. In fact, 81 percent of shoppers research products on Instagram and Facebook, and shopping is a top priority for 48 percent of Pinterest users.
Ignored Channels
However, a staggering number of retailers are overlooking social media for commerce. According to Brightpearl's own data of 4,000 shoppers, a quarter of retailers still do not have options for shoppers to buy via social channels, including some of the largest brands. Very few businesses facilitate non-traditional ways of shopping like Instagram, Pinterest, and livestream, and there is not much urgency to change. The Brightpearl research suggests shoppers are looking to the digital channels that they already use to socialize and access entertainment.
Gen Z consumers, in particular, want to buy online in a variety of new ways – via voice, livestream, and social media apps like Pinterest, Tik Tok, and Instagram. They are ready to shop as they scroll and the data supports this: three-quarters of 18-24 year-olds plan to shop via alternative channels this holiday season alone, and the same number want retailers to make non-traditional channels easier to shop through in the future, according to Brightpearl's study. The Gen Zers who are used to engaging through an ever-increasing choice of social apps and digital services are going to keep growing in purchasing power. Generation Alpha and subsequent generations will be even more digitally savvy. There are shopping opportunities across the digital platforms that your audience uses most, and if your brand is not taking action, it is missing out.
Adopting Social Commerce
The opportunities brought by social commerce are clear – but what about the risks? The complexities involved in adding and then managing multiple new social selling channels — while delivering a joined up and consistent experience for customers — is going to be a growing challenge. The proliferation of new digital channels has caused a fragmentation among shoppers — often along generational lines — that demands a more flexible approach from retailers. Complete visibility across all channels, and the ability to quickly adjust to sudden changes from internal or external environments, are essential.
The reliance on dated and inflexible backend technology, combined with low adoption of new digital channels, suggests many merchants have not realized we have entered a new era of hyper-scalable commerce that requires new ways of thinking. Cookie-cutter, one-size-fits-none strategies from a single vendor no longer work for merchants that need to deliver the latest and best ecommerce experiences, which for Gen Z and subsequent generations will be increasingly found on social media. To truly succeed with social commerce, brands will need dynamic, hyper-scalable systems that allow them to manage an ever-changing roster of social applications at a rapid pace.
Be Social Proofed
According to Gartner, "by 2023, organizations that have adopted a Scalable Commerce approach will outpace competition by 80% in the speed of new feature implementation." With 2022 around the corner, brands must act now to gain the competitive advantage and avoid being left behind. For those who are willing to adapt to the emergence of new digital channels, there has perhaps never been a more exciting time to be in business.
Mark Hook is the VP, Global Brand, Communications and PR at Brightpearl, a retail-tailored operating system for omnichannel merchants. Brightpearl is the number one Retail Operating System (ROS) for the retail and wholesale sector. Brightpearl automates back end operations, from sales and inventory management to CRM and logistics, so that merchants can focus on growing fearlessly.