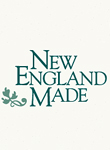 In a recent announcement, The New England Made Giftware & Specialty Food Show (NEM) named the winners of their Spring 2017 Best New Products awards in both Giftware and Specialty Foods categories. Recognized during the most recent March 2017 show, the six winning entries were selected by retailers attending the show and voting for their top choice of product.
Tops for Best New Product Giftware are:
"Lobster Buoy" from Forever Boards, Newbury, NH (First Place)
"Hourglass" from Angelrox, Biddeford, ME (Second Place)
"Lobster Tray" from Seagate Studio, Portsmouth, NH (Honorable Mention)
And taking home the honors for Best New Product Specialty Food winners are:
"Maple Cheese Pairing Collection" from Runamok Maple, Cambridge, VT (First Place)
"Sunrise Tea" from Zen Bear Honey Tea, Brunswick, ME (Second Place)
"Mint Chocolate Chip Filled Chocolates" from Safe Harbor Confections, Waldoboro, ME (Honorable Mention)
"It's amazing to see so many creative and exciting new products entered in the competition," says Stefa Normantas, NEM Show Producer. "The Best New Products awards are a showcase of New England's most appealing products—soon to be in shops and on boutique shelves. The buyers have selected the best of the best and we're proud of those companies that have taken the top honors. Cheers to all of them."
The New England Made Giftware & Specialty Food Show, Spring, now in its 33rd year, is the country's only wholesale trade show featuring products exclusively from New England. New England Made shows are held in both in Spring and Fall, attracting approximately 3,000 retail buyers from across the country and showcasing over 400 exhibiting companies. The shows present a juried selection of giftware, home furnishings, and specialty food from Maine, New Hampshire, Vermont, Massachusetts, Rhode Island, and Connecticut. The New England Made Giftware & Specialty Food Shows are owned and managed by Giraffe Events, LLC.