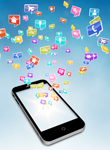 By Patrick Reynolds
Consumers today are rarely without their smartphones throughout the day, even in-store. With an increasing number of sales coming from mobile, the need for an omnichannel strategy that reaches consumers and builds relationships is becoming a necessity for retailers of all sizes.
SessionM recently fielded a survey to over 5,000 retail shoppers to gain a deeper understanding of how consumers are shopping for retail items, how smartphones impact and influence their decision-making and how they plan to use smartphones in the future, revealing three key findings:
1. Most retail shoppers use smartphones to complement their in-store experience.
Despite concerns that consumers are abandoning brick-and-mortar for the online experience, SessionM's study revealed a slight increase for consumers making purchases at brick-and-mortar locations in the last three months, 74.1% versus 72.7% in 2015. Still, the number of consumers that think shopping in-store provides a superior experience decreased from 52.6% in 2015 to 49.4% in 2016.
That could be why an increasing majority of people use smartphones as a complement to their shopping experience. 93.2% of retail shoppers reported actively using their smartphones when shopping. The most popular uses were comparing prices (53.7%), searching for product info (49.3%) and checking online reviews (42.6%).
The good news for retailers is that this online activity is generating massive amounts of data about the shopper. That data can be leveraged along with artificial intelligence technology to tailor a brand's content towards what the consumer will find most appealing, and ultimately lead them to a purchase.
2. Brands that deliver hyper-personalized content will receive loyalty in return.
A growing number of shoppers want a more engaging, real-time shopping experience by receiving relevant offers and deals through triggered messaging. In fact, 63.3% report that they're more likely to shop at a retailer if they receive relevant incentives, as well as personalized engagements such as push notifications and messages while they're shopping.
But personalization goes beyond marketing and content. Consumers are also on the lookout for engaging and rewarding loyalty programs. 78.3% (versus 76.6% in 2015) said they would be more likely to shop at a retailer where they can earn points for future purchases – demonstrating the necessity of loyalty programs today. However, not just any program will do. Loyalty programs need to be specialized based on customers' preferences, frequency and spend.
3. Mobile is a growing channel for purchases.
People are starting to use smartphones for more than just a better in-store shopping experience – mobile is becoming an increasingly popular channel for retail purchases. 46.4% of respondents said that their mobile buying frequency increased over the year prior, with 17.3% saying they made retail purchases significantly more often compared to last year. To capitalize on the shift, retailers need to focus on providing better-optimized, easier and more consistent shopping experiences for mobile shopping within an app or mobile site.
In all, smartphones have a growing influence on how people research, investigate and shop for products both online and in-store. People are using mobile to make better, more informed purchasing decisions, and expect consistent communication and shopping experiences across all channels and touchpoints – not just in-store. This increased smartphone use is creating a prime opportunity for retailers to bridge the gap between online and offline channels, and use that data to engage shoppers. Deliver on that experience, and you'll see consumers converting to loyal customers.