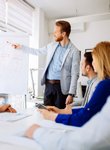 Independent retailers and online merchants have one big thing in common: as small business owners, you need to watch the bottom line. But —as a busy store owner, between the demands of running the 'front' of the store, engaging with your customers and staff, and managing the 'back office' business of cash management, bookkeeping and paperwork can put a huge squeeze on your time and resources.
So what's a retailer to do? Consider outsourcing some of the burden to a responsible advisory and consulting services business, like the partners at B2B CFO®.
In a recent interview with Independent Retailer, B2B CFO® partner Dominic Broccoli explained how the company operates. "The services we perform keep the owners out of the back office and allow them to focus on the front of the business," Broccoli states. "We allow them to concentrate on growing their business and interacting with their customers. We are looking to add value to both the business along with the business owner, by increasing their personal wealth, reducing their cash flow worries, reducing stress, and allowing for more free time with their loved ones."
In an effort to provide the best possible service for their clients, the experts at B2B CFO® will meet with the business owner and provide a free Discovery Analysis to determine the needs of the company. "We look at the business model and offer suggestions to increase company value, improve cash flow, and attain profit margins that exceed their competitors." Broccoli continues, "If the owner decides to engage with one of our partners, we roll up our sleeves and get into the details and work with everyone on the staff to address each need."
Broccoli notes that the retail market is filled with entrepreneurs and small business owners who have transition questions. "At this time, there are approximately 12 million privately held small businesses owned by baby boomers. They are now at a point where they are ready to retire and are asking themselves: 'What am I going to do with the business? Am I going to give it to someone in the family? Am I going to work until I die at my desk? Or am I going to look at selling the business?' And that's where we come in." B2B CFO® offers Exit Strategy support to help with their transition goals and objectives to take the worry and concern out of the exit strategy experience.
The partners at B2B CFO® all come with a sterling reputation as well. In order to be considered as a partner, step one is a minimum of at least 25 years experience in the financial sector as a Controller, CFO, or other senior financial expert. Broccoli sums up the organization's goal: "We want to help our clients so they can focus on what they love to do — utilize their entrepreneurial knowledge to grow their business, while we monitor and advise on the financial impact associated with that growth. Our service is personalized to their business."
For more information on the company, or to schedule a free Discovery Analysis, please contact Dominic Broccoli directly at 845-216-1203, or visit the company's website at www.B2BCFO.com.