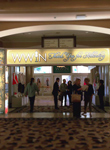 Attention all fashion forward indie retailers! If you're in the ladies apparel retail game, then Urban Expositions Womenswear In Nevada Show, to be held February 12-15, 2018 at the Rio Hotel & Casino in Las Vegas, NV, is your must-see show for the Spring and Summer buying seasons. Featuring more than 1,500 different lines from well over 500 quality exhibitors, the WWIN Show is the perfect place to discover blazing hot fashion trends as well as restock your store with the your tried and true accessories and garments.
What can you expect to find at this sizzling hot womenswear show? From petite and tall to missy, plus, contemporary, traditional and accessories, the show provides retailers with an amazing array of cost-effective and convenient looks.
 Because the show is dedicated exclusively to women's apparel, the exhibitors offer a full range of sizes, as well as a range of exclusive savings offers available only at the show. Booth give-aways and raffles are also in the works, and be sure to check out the presentations by Rita Mitchell-Waldorf, who will lead cutting edge idea-packed workshops throughout the show's run.
Retailers will find both familiar name brands as well as be introduced to new up-and-coming designers whose styles and fresh ideas will ensure your choices will set your store apart from the crowd. No matter what your store's exclusive style may be, you're sure to find styles and sizes to please your shoppers.
As with the past WWIN Shows, Urban Expositions is offering a discounted lodging rate for buyers staying at the Rio Hotel. Just visit the show's website and use code SR2WW8. Don't forget to download the convenient buyer app onto your smartphone. Registered buyers may seek out new suppliers with the app's map feature, set up appointments with your current vendors, or find new ones, all at the tips of your fingers. For buyers seeking additional show details, hotel reservations and travel information, please visit www.wwinshow.com or contact Urban Expositions at 800-318-2238.