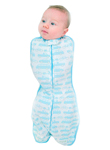 They say invention is born out of necessity. When Karen Barski gave birth to her third child, Bella, she found the tiny Houdini would not sleep through the night in a traditional swaddle. Each night, Bella would unravel her blanket. As a registered nurse with over 20 years of experience, Karen immediately began to worry about her daughter's safety. "It always goes back to safety," says Karen. By unraveling her blanket, Bella was at risk for suffocation, rolling, and other accidents. "She would often get the blanket up to her face," Karen continues. "I got very nervous."
Karen couldn't find a garment with a closure secure enough to keep her daughter safe. So, she decided to make her own; thus the Woombie was born. The ergonomically peanut-shaped swaddle blanket has a secure zipper closure that prevents Bella, and other wriggly babies from coming out of their swaddle. Karen also made sure there is "extra room in the hips and shoulders to prevent locking joints and stretchy fabric so the baby can reposition without risk." Karen continues, "We needed something with stretch, yet compressed to mimic the feel of touch."
"Through our research, we found over 90% of babies prefer to sleep with hands over their heads," continues Karen. "The best part of the Woombie is that it keeps the baby safe and comfortable at the same time." The self-soothing, breathable garment did the trick for Bella. Now, Woombie also helps parents and babies nationwide sleep safe and sound. Woombie has been featured in countless news and media outlets such as Pregnancy Magazine, American Baby, Celebrity Baby Trends, and Huffington Post. The product has also won numerous awards, such as the Family Choice Award, Mom's Choice Award, and more.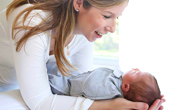 Tremendous amounts of medical knowledge, safety precautions, and ergonomic design principles have gone into the creation of the Woombie; Karen holds her products to high standards of excellence. To convey the quality of the Woombie to customers, Karen recommends retailers incorporate the posters and informational videos she has available into their retail displays. Product demonstrations are also very powerful. "I'll go into stores in my area to do demos and talk about different varieties of the swaddle." Karen says that most mom boutiques know their shoppers well, and being able to make a knowledgeable product recommendation goes a long way.
In addition to parents with tiny Houdinis like Bella, Woombie makes a perfect gift for baby showers and expecting mothers. Karen recommends retailers start their opening order with the Original Woombie, because it's a household name that many shoppers will recognize, and with her newest product, Grow With Me.
Grow With Me is based on the Original Woombie, but can adjust for any size from 0 – 18 months. Babies have a ton of frequent growth spurts, says Karen. "One week you'll have a 9lb baby and the next you'll have an 11lb baby." Grow With Me is a swaddle that can grow with and adjust to the child, while still keeping them safe and comfortable.
For Karen and her family-run company, safety is always a top priority. When it comes to infants and children, you want products you and your customers can trust. Woombie has "the safest products you can imagine," says Karen. She is even designing a special version of the Woombie that will be used in NIC units in various hospitals. Woombie offers products that are safe and easy to use for all ages. "We help babies transition from wean to world."
Visit woombie.com/wholesale to place an opening order.