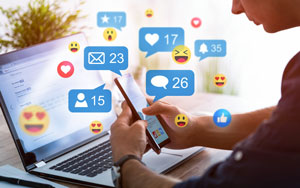 by Maria Melo
The COVID-19 pandemic has created lasting changes in how businesses sell and deliver goods and services, as well as transformed how brands must interact with their customers to succeed. Retailers are well aware of this shift and have been pivoting and adjusting strategies for months to continue effectively reaching customers. With many states now re-implementing stay-at-home orders and enforcing tighter restrictions, driving growth during this challenging time might seem impossible, but leveraging the right strategies and tactics can help retail owners flourish even amid the pandemic.
It's All About Promotion
In today's increasingly online world, it is critical to drive awareness without relying solely on foot traffic. Now is the time to look at your digital marketing approach — is your website fresh and modern and are your social channels fuelling engagement?
At the same time, prioritizing local promotion will be particularly important to effectively reach customers next year. Many of today's consumers are looking for local services and local businesses to engage with and support. Now — perhaps more than ever — consumers are looking to local listings and websites to ascertain if a business is open, if store hours have changed, if new safety requirements and protocols are in place, and more. Make sure your website is not only modern and aesthetically pleasing, but also up-to-date with all the latest information about your company.
Leverage Social Commerce
Ensuring social channels are driving engagement is also key. This season has brought about increased demand from customers to purchase from businesses directly via social platforms. With this, ensure your social channels are set up to either allow purchasing from directly within the social channel or seamlessly redirecting to the website storefront for easy purchase.
Another strategic social move for many retailers may be leveraging influencers. In fact, 34 percent of customers in a recent survey revealed that they have shopped on Instagram based on an influencer's recommendation. Other social-savvy strategies to consider include providing special discounts and pricing to your most active followers, the ability to opt into text messaging for personalized recommendations and links to buy, and giveaways to drive engagement and up-selling.
Understanding the New World of Customer Engagement
Regardless of the channels a retailer chooses to use, reaching customers effectively is key. Today, a big part of that is understanding what has become important to consumers during the pandemic. As much as retailers are able, offer safe options that prioritize the health of employees and customers, such as curbside pickup and features like contactless payment or delivery. This is a great way to drive customers to your business in today's consumer landscape while remaining safe and compliant with regulations.
In addition to contactless payment options and delivery, retailers should also consider leveraging software and tools that can gauge customer engagement and purchasing habits. This will enable you to invest paid dollars wisely, and avoid overspending on ineffective methods of sales and marketing. Using technology the right way can help transcend operational aspects of business management and customer engagement by sourcing customer insights and data to make data-driven decisions.
Customer Engagement in 2021
Leveraging the right strategies and tactics can help your business grow and flourish even during this challenging time. Promoting a business online and locally is key to reaching multiple audiences. Using social media platforms to drive engagement and sales is an effective way to meet consumers where they are and address their behavioral shifts. Overall, you must remain agile, adjusting buying and selling tactics and business processes to meet today's consumers.
As a senior business advisor at Yahoo Small Business, Maria Melo has been working with new and established e-commerce merchants for over 20 years to help them grow their businesses. Maria has also spent over 14 years working with her family in their brick and mortar retail store and is part owner of her own retail wine shop with her brother and sister.