by Mike James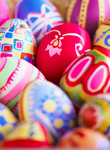 Although traditionally celebrated as the end of Lent, Easter has evolved over the past few decades to be about egg hunting, gift giving and the revival of springtime and new life. While many families still celebrate the traditional religious meaning of Easter, in our retail stores and supermarkets it has become less about the solemnity of the religious meaning and more about chocolate eggs and Easter Bunnies.
In order to ensure that their sales continue to go up, some retail designers, chocolatiers in particular, will be pulling out all the stops in their Easter retail displays in order to entice some of us into buying their merchandise. We'll have a look at some of the favorite choices for Easter Retail displays. Which ones bring in the most customers? You'll have to decide that for yourself!
'Spring' Themed
Easter symbolizes re-birth and the bringing in of the new season. Throughout the spring we will see the birth of many new animals, including lambs, chicks and bunny rabbits. Flowers will also start to bud and peep out, making the spring time a beautiful time for weddings and other celebrations. Enhancing your store display with cute plush baby bunnies and chicks really helps to create that springtime effect and you can easily create little lamb models with cardboard and some cotton balls.
A grassy meadow is an ideal scene for your spring themed display, with flowers and grass poking out at all different angles. Place your chicks and bunnies in the grass, or on little straw nests for effect. You can even hide a couple of multi-colored eggs about the scene to give your visitors something special to look for.
Easter Egg Hunts!
Easter egg hunts make a fantastic retail design, particularly if there are any hidden features for visitors to look out for. People of all ages love finding hidden items in a display and you can even hide features throughout the shop to continue the theme, with a small cream egg or a piece of chocolate to give out to people who manage to find all the 'secrets'. This makes for fantastic advertisement as you can place your brand name on the chocolate and your visitors will certainly tell their friends, who will in turn visit, even if it's just for a freebie. Multicolored eggs and small wicker baskets filled with yellow chicks create a beautiful atmosphere for your Easter Hunt display, or you could create one giant chick surrounded by dinky painted eggs. As Easter is such a colorful holiday, pastels and rainbow colors are a must, so let your imagination run wild with your display.
Religiously Themed
While less commonly seen, many charity shops, Christian themed stores and bakeries will have religiously themed Easter displays. There are a number of ways in which you can positively share the events of Easter with the world through a retail display, including helpful quotes from the bible onto placards or frames, and beautiful depictions of Jesus reborn. It can be easy to forget the meaning behind Easter, but for young Christian children it is still an important event to remember and this is often reflected in the themed retail designs.
Chocolate Factory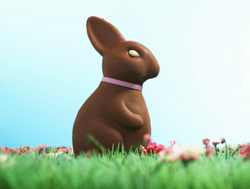 Everybody knows of, or has at least heard of, the classical Road Dahl tale of Willy Wonka's Chocolate Factory. Because of the association of chocolate gifts with Easter, a Chocolate Factory themed retail display would certainly go down well with fans of the books both young and old. You can use a chocolate fountain to re-create the chocolate river, with 'lollipop trees' and golden eggs dotted around the scene. A simple mannequin dressed up in Willy Wonka's wacky classical gear will help complete the scene.
However you decide to celebrate Easter, consider a retail display showing the joys of new life and spring, or a colorful egg hunt. Easter is a time for giving and receiving (especially chocolate), much like a Valentine's Day, so the important thing is to create a display that really catches the eye of passers-by. Make it fun!