by Taylor Moore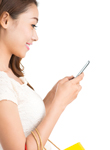 Mobile devices have given customers new ways to interact with merchants. They facilitate more transactions and interactions, which means that mobile marketing has become more important than ever. This new focus has created innumerable challenges for marketers and retail professionals. Let's examine four essential guidelines designed to make your mobile marketing a success.
1. Integrate Mobile Marketing into Your Overall Marketing Plan
Do not make the mistake of thinking that you can abandon any of your current marketing tools because you've taken up mobile marketing. Unlike other shifts in marketing, mobile marketing is not a standalone tactic. It must be integrated with all other existing strategies to be effective. Only then you can be sure that you have a solid marketing toolbox that will produce returns.
The only way to accomplish this is by making sure all the members of your team work in unison. Persons responsible for marketing, merchandising, planning and allocation, and store operations must all coordinate to make mobile marketing campaigns a success. If you handle all these processes alone, it would be wise to go through your marketing plan and assess which of the mobile marketing tactics could work long-term in terms of time and effort that needs to be invested. Optimizing mobile website could be a good start.
2. Embrace In-store Mobile Marketing
Combining online and in-store mobile experiences is another essential step to ensuring the success of your marketing efforts. Multiple technologies exist that can make this tie-in possible. iBeacon push notifications and QR codes are among the most effective and the most widely used ones. They allow users to access product information and promotions via their mobile phones at the point of purchase in the brick-and-mortar stores.
When designing in-store mobile campaigns, make sure the promotions are always personalized for the individual. Refrain from becoming too pushy and protect the shoppers' privacy by making it mandatory to opt-in to receiving promotions. Here is how:
If you decide to use location-based push notifications (iBeacon), you will need to build your mobile application. Businesses usually hire a professional app developer to do this, but you can actually build your app alone, without any programming knowledge. Beacondo.com allows users to create instant apps through a drag-and-drop interface. The best thing is – it's free. They also offer loads of helpful material such as guides and tutorials to help facilitate the process.
During the app building process, general practice is to design the app in such a way that users are explicitly asked to comply with the retailer's guidelines and to give permission to access their location data. This is usually done as a step of the installation process or in the form of a notification that appears immediately after the installation. It's also a good idea to make it possible for users to customize their notification settings to receive only what they want – for example, products only from a particular brand.
3. Optimize Business Website for a Seamless Mobile Experience
Mobile shoppers are on the go, which means they are prone to distractions. They dislike redundancy and love finding the items they want as quickly as they can. For this reason, making everything super easy and hassle-free is an absolute must. You want to ensure your web page loads quickly, that the messaging is brief and to the point, information easy to find, and that there are no problems that might otherwise diminish mobile browsing experience.
It is advisable to use a responsive layout. This simply means that your website will adapt to different screen sizes and resolutions. Nowadays, the vast majority of websites are built on the WordPress (wordpress.com) platform and there are literally dozens of free responsive templates to download from WordPress Theme Directory. To find them, turn on the Feature Filter > Layout > Responsive Layout and hit the search button.
Other best practices for your mobile website are adding "Click to Call" and "Click for Directions" buttons, as well as a map that displays nearby store locations. Most importantly, make sure the page is optimized for local and map searches.
4. Align Your Goals with Your Mobile Shoppers' Interests
The one thing you must realize to be successful with marketing is that it's never about what you want to do; it's about what your customers want and like. And the only way to discern what your customers want is by getting feedback from them.
You can perform this with tracking and analytics software that has been integrated with your e-commerce site and store applications. For example, GoSquared.com tracking software for e-commerce sites provides real-time data on conversions, revenue, transaction volume, quantity of items sold, number of visits to the e-store, traffic sources and more. It integrates almost effortlessly with Shopify (www.shopify.com) and WooCommerce (www.woocommercemarketing360.com), but also allows setting up tracking for all other e-commerce platforms.
On the other hand, platforms like ProximitySense.com and Roverlabs.co can integrate with your mobile app and provide you with information about your customers' in-app and in-store behavior.
Data culled from these tools will help you understand how mobile consumers interact with your brand online and in physical store locations, how they want to discover and explore the merchandise, why they opt-out from receiving promotions and why they abandon certain purchases.
Remember, apart from using the tracking software, you can also go ahead and talk to your customers directly. Shoppers are especially willing to share their opinions and personal shopping-related data in exchange for coupons and discounts.
These four foundational guidelines will help you align the goals of your business with the desires and habits mobile users display. Following them guarantees your mobile marketing a successful and profitable outcome.