By Mackenzie Hurlbert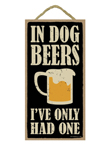 SJT Enterprises prides themselves on being a leading Made in the USA wood plaque distributor, but their origins were humble, like many wholesale businesses. "SJT started as a mail order business in 1985 in a spare bedroom of a house," says Tim Smith, president of SJT Enterprises. "Over the years we developed various products and slowly started selling them to stores." Since their homegrown beginning, SJT has grown into a leading supplier of Made in the USA signs, plaques, and novelty products.
"In 2008 we came out with a new line – decorative wood wall plaques with dog breeds," says Smith. "Despite being in the Great Recession, the plaques took off and have been great sellers ever since." Since the development of that line, the business has grown to offer over 14,000 different wood plaques in a dozen categories. "We add more just about every week," Smith adds.

When it comes to Made in the USA products, the benefits are innumerable, Smith explains. "Since we make everything here, we can ship quickly, but more importantly, we have no back orders," says Smith. "We are not waiting for product to come in from a 'slow boat from China' as the old saying goes."
Made in the USA products have the additional appeal of fostering American-based jobs and profit. "I, our customers and their customers, have the satisfaction of knowing they're employing Americans in our plant," says Smith. "The wood we use is sourced in the States so we're keeping the mills and the distributor busy as well. It's a trickle-down that most people don't realize. Even the floor displays we make consist of wood and metal components that are all sourced and made in the USA."
When it comes to competing with other companies who outsource their production, Smith notes, "We have a larger selection of wood plaques than those that import, we back order nothing since we make it right here, we can do custom jobs in small quantities, while they cannot, and our plaques are made in USA but at China prices!"
SJT Enterprises stands by their product lines and understands their customer needs. "Our product sells much faster and generates more profits for retailers than so many other products," says Smith. He adds, "So many stores tell us two or three of our displays outsell all their others in the store."
SJT's plan for the future is to maintain their USA commitment and "to keep Americans working and sell more inexpensive wall décor," says Smith. Along with their wooden signs, Smith says they are adding wood fridge magnets and stone coasters. "We already offer more SKU's than anyone in our industry and add more all the time."