By Kevin Zimmerman
"We don't reinvent the wheel – we redecorate it."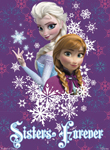 That is the unofficial motto at gift and novelty wholesaler Kalan LP, according to national sales manager Daniel Shoemaker. It reflects the ever-changing nature of Kalan's business as it identifies shifting trends, fashions and pop culture fads. Items like keychains, magnets and shot glasses may be evergreen products, but it is Kalan's business to offer up-to-date designs, catchphrases and the like to ensure its retail customers remain on the cutting edge.
The success of such an approach is self-evident. A family-owned business that is now run by the grandsons of its originator, Kalan LP has been around for 40 years; per Shoemaker, it currently offers around 5,000 products to a customer base of 50,000-plus retail stores of all sizes, including mega-chains like Spencer's Gifts, Party City and CVS.
The secret is staying abreast of what is trending now. For example, zombies are now one of the orders of the day. Where once relegated to Halloween themed items, the ongoing popularity of zombie-themed parties, TV's The Walking Dead and a seemingly endless series of undead-themed movies, books and more, have made the zombie a year-round proposition. Thus Kalan features a horde of zombie products, ranging from a "Keep Calm and Kill Zombies" 1 ¼-inch button ($0.50 each or $3 for an order of six) to a "Warning: Zombies Ahead" metal sign ($3.00 each or $12 for an order of four), and beyond.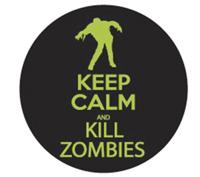 Licensed products are also popular, including the ever popular line of Disney magnets. Rather than compete in the much populated Mickey Mouse/Donald Duck domain, however, Kalan's Disney offerings focus on princess magnets, mainly from the popular Frozen movie.
Reflecting the different tastes and needs of its diverse roster of customers, Kalan maintains both a "censored" and "uncensored" website, with the latter including NSFW designs and products like an "I Know 2nd Hand Smoke Kills – I'm Hoping It Starts With You" ashtray. "A customer like Spencer's might want something like that," Shoemaker says, understanding that these types of products are for a very specific range of stores. Light-up badges and keychains, journals, sleep masks and air fresheners are some of the categories doing particularly well at the moment. "You may not know what a zombie smells like," Shoemaker laughs, "but I do." You can too, by purchasing a six-pack of 'Beware of Zombies: Area Infected" air fresheners at $1.00 each.
Kalan also sells a line of racks of its products in a variety of designs and capacities, whose content can be rapidly changed and/or refilled. Kalan LP maintains a $100 minimum order policy, offering shipping within the continental U.S. free for orders of $200 or more.
Erratum: In the print version of the November 2015 issue of Independent Retailer, the article on Kalan LP entitled "Trendspotting is key to Kalan LP" contained incorrect pricing information. The original prices listed should have read "Keep Calm and Kill Zombies" 1 ¼-inch button ($0.50 each or $3 for an order of six) to a "Warning: Zombies Ahead" metal sign ($3.00 each or $12 for an order of four). This pricing was corrected online on November 11, 2015. We regret the error.