By Kelley Sloyer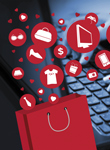 As a consumer, there is a big chance that you have used a coupon to make a purchase in a store. As a small business retailer, you may not have used coupons in your business due to fear of underselling your value. However, that does not have to be the case. Think of coupons as a way to build awareness of your business, reward your loyal shoppers and generate new customers. Here are four simple ways you can add coupons to your existing marketing strategy without compromising your bottom line.
1. Facebook Offers
Facebook is a great place to promote a special sale going on in your business. Not only will it reach followers who are customers, but also it will reach other users who maybe have not shopped with you before, but need that extra push. That is where Facebook's Offer feature comes in to play.
If your local business Page has 50 or more Likes, you can take advantage of this feature by accessing it where you normally post a status or by navigating to facebook.com/ads/create. The great part of using a Facebook Offer as a coupon is that you can set a limit to the number of people who can claim the offer, adding a more exclusive feel. In addition, you can completely customize the Offer to reflect the special you are running, like 20 percent off one item, and how long you want the Offer to be available. Once you set an expiration date, the Offer will be live on your Page for Facebook users to claim to use at your business. Once a user claims the offer, they will receive an email with instructions on how to redeem the offer. Keep in mind that if you want to go the extra mile, you can choose to pay to promote your offer to reach even more people.
2. Loyalty Programs
Your most loyal customers are the ones who come back time and time again to shop for all of their special occasions. You can guarantee that they will support you, with or without a coupon, but it is still important to show them your gratitude by implementing a loyalty program. There are many different types to choose from, like punch cards and reward dollars, but you should choose the one that best fits your business. Once your customers fill their punch card or reach a certain dollar amount, reward them with a special coupon to use on their next purchase. Because they are a loyal shopper, the likelihood that they will purchase additional items to make the most out of the coupon increases.
3. Email
Your customers are looking forward to receiving emails from you with a coupon attached. According to TIME, 64 percent of U.S. internet users have printed a coupon from an email (2014). However, that statistic does not mean that you should inundate your customers with coupons. Instead, send to specific groups of customers. If you have segmented your lists, send an email to customers on their birthday month that features a coupon that only they can use by showing their ID in your store. You can also send a special coupon to VIP customers or to customers who love a certain brand. By limiting the amount of customers you send a coupon to, you are still protecting your bottom line.
4. Neighboring Businesses
Word of mouth is still a strong form of marketing for your business, so utilize it! Collaborate with neighboring businesses in your area to swap coupons. When someone makes a purchase in one store, the employee should give a coupon to the customer for the other store. It is a way to let the customer know that the businesses in your neighborhood support each other. Most importantly, it provides an incentive for the customer to make a purchase in the other store, with a stamp of approval from the store they just visited.
See, coupons are not as scary as they seem. By limiting the number of coupons you give out and by using different channels to promote your coupons, you are providing an added incentive to buy while still keeping your value intact.