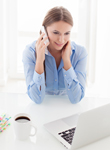 Customer success is a buzzword that has been flying around the web. What exactly is customer success and how does it impact sales for independent businesses?
According to the Customer Success Association, "You either actively manage your customer relationships as strategic portfolio assets, or you effectively cede control over them and your company's future to chance and/or the competition. Customer acquisition is only the very first step in what must be a long-term, scientifically engineered, and professionally directed strategy."
Smart retailers know that a satisfied customer is a repeat customer. In fact, research shows that it is 6-7 times more costly to attract a new buyer than to retain an existing one, and Gartner Group adds that 80 percent of a company's future revenue will come from just 20 percent of existing customers.
By proactively helping visitors achieve their online goals, your sales will increase and your customer support costs will decline. Your return rates will also decrease by making your consumers more knowledgeable buyers. Coupling a success strategy with a strong business model creates a powerful set of benefits for both businesses and consumers.
The following are 5 best practices a small business owner should consider to help fuel future success.
Leverage the right technology where possible
Using the right technology is much more efficient to scale a business than stacking humans and increasing customer support costs. Various tools are available that allow businesses to effectively scale, such as self-service software for websites like AnswerDash. Most software or Software as a Service (SaaS) technologies make repetitive manual tasks, such as searching a FAQ page or calling a customer support center more efficient and immediately responsive to customers. Time is critical. SaaS technologies are great for small business owners looking to efficiently scale operations to spend more time driving deeper relationships with their buyers.
Be proactive when dealing with customers
Customer success can be intuitive in that you are thinking about the consumers needs first – but customer success is also designed to work another way. It encourages retailers to proactively seek issues and solutions rather than reactively waiting for fires to start. The biggest difference between customer success and mere customer support is that the former is much more proactive in finding ways to help buyers accomplish their goals.
When you proactively deal with customers' needs, buyers will have a better experience with your business, leading to a more valuable relationship, improved retention and increased future sales.
Separate customer success from customer support
Customer success and support are two different things. Even some top retailers mistakenly combine customer success with customer support, but this approach frequently fails. It is important to separate the two so you can prioritize your customers' requests.
• Customer success requires that a company focus on the long-term health, well being and ultimate success of the buyer. Customer success is largely proactive.
• Customer support addresses issues about a product or service rather than helping consumers achieve their goals. Generally customer support agents focus on the short-term satisfaction of customers' needs. Customer support is largely reactive.
Have real-time visibility into customers' issues
Customer success is all about helping buyers achieve their goals. Doing so requires the knowledge, resources, and real-time visibility into the issues consumers are currently facing. To proactively deal with customers' needs, you must engage in ongoing discussions with them. Understand their challenges and demonstrate efficient ways you can help solve them.
Focus on delivering long-term value to your customers
Determining what success means to each customer is key. And since there's no one-size-fits-all answer, constructive and on-going customer engagement is a must. By understanding the ever-changing challenges and priorities, your customer success organization can help you deliver value over the long term that competitors cannot.
Customer success is essential for small business owners, creating opportunities to increase sales while reducing support costs. And focusing on customer success rather than just support provides a competitive advantage by helping businesses identify pain points along with potentially valuable solutions. A customer success organization can be a strategic resource, helping to achieve their long-term goals.