By Nathania Stambouli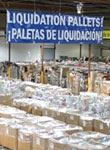 Every retailer has dealt with excess inventory in some capacity. You know, that purchase you were excited about, but your customers didn't feel was a good deal? The one that has been sitting on the shelf getting price reduction after price reduction, but just isn't moving?  Many retailers walk away from such purchases and consider them a loss, but they don't have to. The following solutions offer five ways to clear slow moving inventory, while creating marketing opportunities for your business.
Solution 1:  Turn them into promotional items
Everyone likes to get a freebie or a buy one, get one free offer. If you're willing to let excess product go for less than you originally intended, consider giving out gifts with purchase. For example, if someone spends $50, they get a free (insert excess product here). This works by increasing customer loyalty, while helping you upsell. It also gives you an eye-catching message to advertise. You can also have items printed with your company logo, and use them as branded giveaways to further solidify your message.
Solution 2: Sell them through Daily Deal sites.
Daily Deal sites have soared in recent years, and sites like Groupon Goods, No More Rack and Daily Steals are dedicated to offering popular consumer goods at a discount. They are often looking to source several hundred or thousand units of products for daily deals. If you're sitting on let's say, 200 excess pairs of purple sandals that just won't sell, consign them to a daily deal site. You'll get money for them, and in some cases a bit of exposure for your business brand. In many cases, deal sites want you to ship the goods to their warehouse so they can ship them out promptly, while others work on a drop-shipping basis.
 Solution 3:  List them on eBay Wholesale
What happens if you're stuck with 73 pieces of completely assorted items? It used to be challenging to move mixed items in one small lot, until the arrival of eBay Wholesale. eBay Wholesale is a great platform for listing small or large lots of excess inventory in varying conditions. The buyers on the site are looking for wholesale and closeout deals, and the site is consistently growing in popularity and attracting new buyers. Listing your lot there can also give you an avenue to connect with other wholesalers who might even become future suppliers for your business.
Solution 4: Create a coupon
You can also create coupon codes for your items and submit them to major couponing sites likes RetailMeNot, Wow-Coupons, CouponSherpa and more. There are dozens of these out there, many of which are free. Anytime a prospective customer looks up a discount coupon for your store, your special offer of a discount on your excess inventory item will pop up, and help get that customer into your store where he or she will likely find additional items to purchase.
Solution 5:  Liquidate
Many retailers don't have the time to do the research that some of the above solutions suggest. If that's your case, or if you have a larger quantity of inventory to move, consider partnering with a liquidation company specializing in selling off excess or obsolete goods. Programs like Via Trading's LiquidateNow, among others, offer several options, including selling the goods to one buyer as one lot, or selling it as multiple lots to multiple buyers to recover a higher return. As you research, pay attention to what liquidators do for the vendors they work with. Programs like LiquidateNow write short case studies for their vendors, giving them added online exposure.
In addition to these solutions, retailers can consider donating their excess goods to charities. This usually means a tax write-off, and some charities will link to the donor on their website, or otherwise allow the retailer to use the donation as a PR piece. Craigslist can also be a great way to move larger items like furniture, and has the added benefit of being very regionally targeted. Any ads you place on Craigslist for your inventory can include information about your store or website, to help drive additional foot or web traffic to your business.
The point is, just because it's not making you money the way you hoped it would, doesn't make it an outright bad purchase. You can get creative and recuperate at least part of your investment (if not all), while simultaneously creating opportunities to get your business's name out into the world.