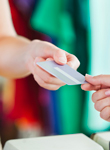 By Krista Fabregas

Advances in technology have paved the way for highly sophisticated front-end solutions designed to streamline tasks for retail store management. If you're a retail store owner, it's in your best interest to implement smart solutions to help simplify processes and ultimately achieve better ROI. While the idea of using cutting edge technologies may sound expensive, a lot of software combines multiple management functions, which makes employing these resources both affordable and practical.
Here are 8 important tools and resources to help improve the overall operations of your retail store.
1. Accounting and Invoicing Software
Accurate retail accounting is critical to your business. And keeping the books is easier with a good accounting program. By using accounting software you can eliminate human error as well as save time and money. There are integrated accounting solutions with sales, purchasing, and inventory management features. Whatever you choose, make sure it allows you to import transaction data and easily create auditable records of purchases. You need to be able to document assets and liabilities, expenses and revenues, and generate a real-time view of your gross profit. It is best if you can find a program that can manage everything from accounts receivable to payroll to invoicing.
2. Customer Relationship Management (CRM)
CRM systems' main function is to manage customer relationships. Having a good CRM software will help you understand your customers and their buying habits, how they prefer to communicate, and when and what they're likely to buy. This information will be extremely useful to incorporate into your overall marketing and sales strategies.
Aside from the traditional CRM systems, many retail stores take it a step further by linking their phone calls with their customer information. There is an undeniably natural fit between phone services and CRM programs which is why many small business VoIP service providers offer integrations with popular CRM software like Salesforce. So if your business needs to link phone calls with customers with transaction history, payment information or other client details seamlessly, then consider this additional feature when choosing a CRM program.
3. Inventory Management
Inventory control and management is another important part of your business that has to be as seamless and accurate as possible. Stop wasting time manually calculating the reorder level and make your inventory management process effortless. Find an inventory management tool that can provide real-time information about stock and merchandise. A good program will allow you to identify sales trends for re-ordering and highlight potential shrinkage. You may also want to consider web-based solutions so you can monitor the inventory efficiently even if you're not physically present at your store. Whatever you choose, make sure it fits the unique requirements of your retail business.
4. Supply Chain Management (SCM)
Every retailer may use a different set of tools for supply chain management, which may include order management, fulfillment, warehouse management, returns, and more. You can opt for either an all-in-one suite or select one or two standalone solutions. There are inventory and accounting solutions with some of these features built in. You can save money and speed some of your SCM processes if you keep all features in one system.
5. POS (Point of Sale) System
A good POS system is typically more cost-efficient than the traditional cash register. Having a fully automated selling portal will provide you with important information about your retail operations anytime, anywhere. If you choose the right POS software for your business it will help you gain more control over operations, increase efficiency, boost profits, and improve your business model. Look for software that can provide your customers with a smooth buying experience. Here are some of the most important features to consider when choosing a reliable POS program.
Fast Checkout: Find a retail POS software that simplifies the checkout process. It should not take the customer or your staff much manual effort to complete a transaction.
Payment Processing: Your customers and staff should enjoy seamless transactions using credit cards, debit cards, gift cards and etc. Check out mobile credit card processing options that cater to your business needs.
CRM Integration: A POS system with full CRM integration can provide you with information that you can use to create targeted marketing strategies and improve your customers' retail experience.
Reporting: Data is one of your most valuable resources. Reporting tools are critical to understanding the forces behind profitability and diagnose areas for improvement. Find a solution that can translate sales receipts into organized financial reports.
6. Loyalty Management
Do you know that 83% of consumers said that loyalty programs make them more likely to continue doing business with a company? Creating an effective loyalty program is more than just building your customer database. You'll need active participation from both your end and the customers, as well as a reliable loyalty management program. Many POS systems include features to send targeted email campaigns to loyal members. Having a solid system in place is key to sustain engagement with your valuable customers. Devise a loyalty program that encourages participation and use a dependable automated system that both parties can use to monitor their points or rewards.
7. Barcode and Labels
Whether it is at the checkout stand or at the warehouse stocking the shelves, a good barcoding system will help reduce errors and improve your retail business. Most small retail stores can get by with a simple barcode program. Many POS programs include barcode generators. You'll also need a printer and scanner. Invest in a reliable barcoding system and you'll reap the benefits of having inventory and pricing accuracy, not to mention speeding up checkouts, which makes customers happy.
8. Online Shopping
According to a report, 79% of U.S. consumers shop online. No matter how small or big your retail business is, having an online store can help you reach more people and ultimately sell more products. There are plenty of website platforms and tools online that can help you get started with ecommerce. Just make sure see to use a comprehensive system that can integrate your online channel with your physical store to avoid any issues with managing inventory.
As you scout for which retail software makes sense for your business, it is best to look for a system with comprehensive tools that incorporate accounting, customer relationship management, inventory control, supply chain management, point-of-sale, reporting, and more. Whether you choose to utilize an all-in-one solution or go for standalone programs, make sure that it changes the way you run your retail store for the better.