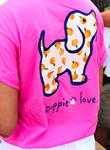 "Saving one animal will not change the world, but surely the world will change for that one animal." Puppie Love was created to help dogs in need all over the United States. Dogs have proved to be nothing but loyal and loving companions and it is time to give every dog the unconditional love that they deserve. The goal of Puppie Love is to facilitate dog adoptions by donating 10 percent of profits to no-kill rescue centers and adoption agencies while raising awareness to the harsh environments that no dog should ever have to experience.
Recently, Puppie Love donated $10,000 to the Friends 4 Life animal shelter in Houston, Texas to help rescue the 1,200,000 dogs that were displaced by hurricane Harvey. In addition to the Friends 4 Life donation, Puppie Love has donated over $25,000 to different shelters since the company started this past spring. Puppie Love offers short sleeve and long sleeve shirts, tank tops and accessories with fun and colorful puppy designs.
Puppie Love is sponsored by Live Oak brand, a company supplying southern lifestyle apparel. Live Oak offers retailers fashionable t-shirt designs, including collegiate and long sleeve, pullover fleece and performance fleece, and Instagram-worthy fleece booties. Their fall-favorite designs and cozy fleeces will have your store ready for the cold weather months ahead.