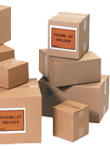 If you're a retailer who mails products, David Holt has a question for you: How often do you really think about your shipping and packaging? In reality, advises Holt, most retailers don't think about their shipping and packaging enough, and as a result they are likely leaving money on the table. The truth is, Holt says, many companies use packaging and shipping products every day, all day, and yet they may rarely stop to consider if they are maximizing this crucial part of their business.
This is why Starboxes prides itself on being more than a commodity company that delivers boxes and bubble wrap. "There are products that companies use every day," he says. "It's really a partnership between us and our customers. Shipping is changing all the time, and businesses really know their products, really know their customers, but a lot of them don't know shipping. We can help provide a competitive advantage."
When it comes time to approach a shipping partner, Holt, who has been in the shipping and packaging business for decades, has a few pieces of advice. First, really "understand your product," he advises. "If you're taking that product and putting it on some form of transportation, like a truck, and the product has high value, your packaging should be more upscale."
He advises working with your manufacturer or wholesaler to provide effective inner packaging for large shipments. Many times, manufacturers or wholesalers can package products in such a way that your repackaging is minimal, which saves on shipping costs in the long run.

His second major tip is to understand your carrier needs. The major shipping entities—FedEx, UPS, the United States Postal Service, and others—are constantly changing their business models to attract different types of customers. By partnering with a company like Starboxes that really understand carriers, you may be able to save significant dollars on shipping costs.
Finally, he says it's important to find the right partner. Starboxes, for example, maintains distribution centers for product all over the country. This allows the company to hold fulfillment costs down and speed delivery times so you never run out of shipping supplies.
"For example, shipping bubble wrap is nothing but air," he says. "So if you ship a bulky box of bubble wrap and it's coming across the country, it might cost two to three times the amount to ship the bubble wrap as the bubble wrap itself costs. Because we use multiple locations, we can cut transit time and shipping costs."
In general, Holt says that Starboxes delivers most orders within 1-3 days of receiving the order.
How to Buy Products
Starboxes prides itself on customer service and forming close partnerships with its customers. The company carries a comprehensive line of shipping and packaging material, such as tape, boxes, stretch wrap, bubble wrap, and anything else you might need for shipping. The company, says Holt, works closely with manufacturers and carriers so it's able to offer low prices to its customers.