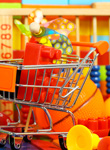 The Toy Association — the largest trade association of its kind in the world, unveiled a new mission statement, new name, and major rebrand. Formerly called the C, The Toy Association supports a diverse membership whose global reach is revolutionizing the face of toys and play. The organization's member-focused programs, products, trade shows, and consumer events promote international business growth for all members. Its new tagline, "Inspiring Generations of Play," underscores the Association's 100+ years of service and the many developmental benefits of play in a child's life.
The Toy Association ended 2016 with 1,098 member companies that design, produce, license, and deliver toys and youth entertainment products for kids of all ages. The trade group has a long history of propelling the health and growth of the U.S. toy industry, which has an annual economic impact of $80.25 billion in the United States.
New Initiatives
The Association has expanded its core services and embarked on new ventures, including Play Fair (playfairny.com), a large-scale kid and family business-to-consumer event; ShopToys365.com, a first-of-its-kind business-to-business digital marketplace for toy retailers and suppliers; and The Genius of Play (www.thegeniusofplay.org), a consumer-focused initiative which encourages families to make time for play by educating them about play's critical role in healthy childhood development.
Successful Events
The group's world-renowned trade shows showcase the brightest innovations in toys and play along with stunning technological advancements. Its North American International Toy Fair (www.toyfairny.com) continues to shatter records with sold out space and attendees from more than 100 countries, while Fall Toy Preview (www.toyassociation.org/falltoypreview) remains committed to serving the long-lead planning needs of mass and high-volume specialty retailers.
Tackling Business Challenges
With its actionable research, The Toy Association is helping companies tackle business challenges — from rapidly changing global economic and population trends and intellectual property protection, to new chemical regulations and an empowered consumer base of millennial parents with nontraditional shopping habits. The Association's advocacy work provides insight and support on key legislative and regulatory issues affecting members in global markets, and it maintains education outreach to American consumers and media on all aspects of toy and play safety.
Generations of Play
David Hargreaves, chairman of The Toy Association's board of directors and strategic advisor at Hasbro, Inc., emphasized the need for change: "This is not your father's Toy Association, because this is not your father's toy industry nor marketplace. The global toy and play landscape has transformed dramatically over the last few years. Our team is effectively overhauling every aspect of the Association with an eye to the future to make certain we continue to provide members with best-in-class resources, business insight, and support to help them grow and thrive."
Global Collaboration
As a worldwide leader, the Association collaborates closely with international toy associations, foreign governments, and national standards bodies to advance toy safety and align global standards. The organization sustains the Canadian Toy Association; acts as secretariat for both the International Council of Toy Industries and the International Toy Industry CEO Roundtable; and chairs the committee that reviews and revises America's ASTM F963 toy safety standard — one of the most respected and strictest toy safety standards in the world.
About the Toy Association
Founded in 1916, The Toy Association™ leads the health and growth of the U.S. toy industry, which has an annual U.S. economic impact of $80.25 billion, and its 950+ members drive the annual $26 billion U.S. domestic toy market. The Toy Association serves as the industry's voice on the developmental benefits of play, and promotes play's positive impact on childhood development to consumers and media. The organization has a long history of leadership in toy safety, having helped develop the first comprehensive toy safety standard more than 40 years ago, and remains committed to working with medical experts, government, consumers, and industry on ongoing programs to ensure safe and fun play.