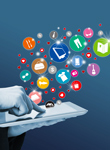 By Erika Jolly Brookes
BigCommerce indicates that nearly 50 percent of millennials and Gen Xers are taking their business to webstores or online independent boutiques. Why the surge toward independent online sellers? Consumers always want to support small retailers and now they can easily do so from the convenience of their own devices. Despite the rapid growth in ecommerce, small merchants must promote themselves strategically to continue to build a loyal, and returning, customer base.
The good news is marketing doesn't have to be stressful or expensive for online retailers. The following are a few simple and cost effective ways you can help your business standout to online shoppers.
Invest in the Best-Selling Channels
As an independent online seller, it's important to know your strengths. Identify your strongest channel, whether that's Amazon, Etsy or eBay, and invest in advertising on those channels to further promote your goods. For example, 74 percent of Amazon sellers surveyed by Web Retailer and Feedvisor said they promote their goods through Amazon Sponsored Products to gain more traction.
Amazon Sponsored Products is a cost-per-click advertising program that uses targeted ads to boost a product's visibility on Amazon. Often compared to Google AdWords, Sponsored Products allows merchants to bid on keywords to feature their products in Amazon's search results. However, many online retailers find it's more cost effective than the Google option.
Drive Multi-Channel Sales
As an online retailer you're probably email savvy, but have you explored what social channels like Facebook and Instagram can do for your business beyond drumming up likes and shares? With the help of an affordable ecommerce marketing platform that covers all digital marketing channels, traditional online marketing tactics like retargeting ads have made their collective way to Facebook and Instagram. Now, online merchants can easily personalize ads on social sites with products relevant to a customer's past purchases or recently viewed content on the retailer's website. Customizing your ad content and messages increases the likelihood of a sale.
Speaking of sales, independent online sellers can now seamlessly sell goods directly from their social media accounts, too. As consumers browse your store's Instagram account, for example, they can click a link in the page bio or caption and be transported to a full catalog of goods that were featured on your profile page. Capabilities like this will take your social media presence to a new level.
Engage via Email
When optimized, email also delivers powerful results for independent online sellers. According to findings from a recent marketing industry census, email has earned the top spot as the best digital marketing channel for ROI three years in a row.
As email technology has advanced, small online merchants now have greater access to automation, list segmentation, WYSIWYG (what you see is what you get) email design templates, email pop up capture, automated emails for abandoned carts or anniversary reminders, and performance metrics formally reserved for much larger retail operations.
With this type of functionality in your marketing arsenal, you can nurture customers with exclusive discount offers. Depending on your email-marketing provider, you also can offer product recommendations based on past purchases or abandoned cart reminders. In these instances, the right solution can simplify execution of these types of promotions.
Ride the Ecommerce Wave
Forrester predicts ecommerce will become a $523 billion segment within the next three years. Independent online retailers riding this wave of growth can rely on strong selling channels, social media and email to help promote their businesses and remain competitive. These particular tactics are not complex when approached with a multi-channel mindset and platform. Yet, they are efficient and will deliver great results through this boom.