By Kelley Sloyer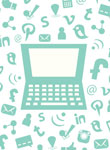 Your Pinterest page is filled with full and engaging boards, you have a nice following and you get daily repins. The hardest part for Pinterest beginners is over. But now what? Take your page to the next level with these quick and easy tips.
Create a group board
As you know, customer engagement is one of the big keys to success for your business. But coming up with new ways to spark conversation on social media can be tricky. Pinterest's group board feature will help.
A group board is a board that you and others you invite can add Pins to. It helps make your business become more approachable and increases your visibility. Start by creating a group board that is related to your business type. It can be a board of favorite products purchased at your store, favorite recipes from your cafe, trends for the upcoming season, or even landscaping ideas. The possibilities are endless! Fill in all of the information about your board and start adding Pins. Then tap into your list of followers to find any of your current customers and pinners who have repinned from your boards in the past, and invite them to join your new board. Simply click "Edit" on your board, and type in the name of a person you would like to invite. The person's name will appear, and you can click on it to automatically send an invitation to their email.
If you would like to invite more Pinners, ask your fans on Facebook and Twitter! Post or tweet a message that includes a link to your Pinterest page, and ask your fans to Like or RT your message if they have Pinterest and would like to join your board. Be sure to communicate that they need to follow at least one of your boards first! To give added enticement for them to join the group board, consider holding a contest where the 10th person to add a Pin to the board will receive $5 off their next purchase. Then feature that fan's Pin on your social networks for even more engagement.
Cater your Pin descriptions for Guided Search
Pinterest has more than 750 million boards and 30 billion Pins, so creating a keyword-filled Pin description to help your Pins show up in searches is more important than ever, especially with the introduction of the feature, Guided Search. For now, this feature is mobile-only and appears once a user taps on the magnifying glass on their iPhone or Android to search for Pins. Once the Pinner starts to add in a search term, results automatically start to appear. The Pinner can select an option or continue to type in the search term of choice. Once the Pinner taps "Search," the results will appear along with a scrollable list of options to help narrow down exactly what they are looking for. If a Pinner is searching for a blue sweater, once they tap search, they will have scrollable results like "Outfit," "Navy" and "Royal."
So what does this mean for you as a business? Add specific descriptive words to all of your Pin descriptions. For example, if you are ready to add a Pin of a new sweater that just arrived in your store, the important keywords you need to include in your description are the brand name, complete color, material and other important information. When a potential customer is searching for that navy blue sweater by the designer you have pinned, it will have a better chance of appearing in the guided search results.
Utilize new tools to promote your boards
Cross-promoting your Pinterest page through Facebook, Twitter and email is a great way to gain new followers and spread the word about your page. But are you promoting it on your website? Pinterest has made it easy to do so with Widget Builder. With a few clicks you can customize the Pin It button and Follow button for your website, or showcase a Pin with Pin Widget and feature up to 30 pins with Profile Widget and Board Widget. Your customers can easily discover new Pins when they visit your website and Pin them to their boards. SnapRetail designed a Pin it button of their own for subscribers to add to each image they send in an email. From there, customers can click "Pin it" to Pin the picture to their boards. Pinterest is releasing another way to promote your Pins in conjunction with your website with paid ads. This will be a game-changer, because you will only pay when people click through to your ads. Pinterest Ads are only in testing stages right now, so join the waitlist here: ads.pinterest.com.
As Pinterest continues to dominate social media, more and more features will be released to help you increase your online footprint, and most of all, your sales. In the meantime, implement these three new tips on your page, and enjoy boosted engagement.