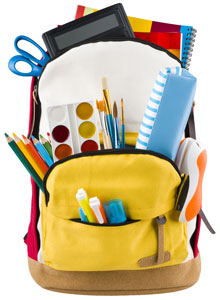 Last year, back-to-school and back-to-college spending reached a whopping $82.8 billion, according to the National Retail Federation. Shoppers spend more on back-to-school and back-to-college than consumers spend on Mother's Day, Father's Day and Valentine's Day combined. After the winter holidays, back-to-school is the biggest shopping occasion in the United States in terms of dollars spent.
Part of what makes back-to-school spending so lucrative for retailers is that it is spread across most of summer and fall. Many shoppers start scoping out back to school styles and deals in July, and wrap up their purchases in September. Although online sales make an increasing proportion of back-to-school sales, the majority of these purchases are being made in-store. According to Statista, the average back-to-school shopper plans to spend nearly $300 in-store, $115 online, and are undecided on where to spend $104 of their budgets.
Whether you're selling apparel or school supplies, there's plenty of opportunity to cash in on the nearly $83 billion back-to-school sales season. Here are nine tips to help you ace back-to-school sales:
1. Advertise Early
The early bird gets the worm. Thanks to Amazon Prime Day, which is a one-day flash sale on Amazon held in mid-July, back-to-school shoppers have started crossing items off their lists earlier than usual in recent years according to Marketing Dive. To get your products in front of shoppers, start advertising back to school items and promotions in early July. Marketing Dive advises that shoppers are still partial to brick and mortar stores for back-to-school shopping. But, make the most out of savvy shoppers by offering digital coupons for popular items.
2. Use Limited-Time Promotions
Many retailers are copying Amazon's Prime Day strategy by also hosting flash sale events during the summer. Although shoppers are spending a lot during the back-to-school season, they're also looking to purchase a lot of different items. Therefore, many consumers are more price-conscious than usual. Hosting site-wide or store-wide flash sales is a great way to advertise your new back-to-school merchandise while appealing to shoppers hungry for a deal.
3. Create a LookBook
Clothing is the biggest spending category for back-to-school shoppers, and the second-biggest category for back-to-college shoppers after electronics. Growing gradeschool kids likely don't fit into their clothes from the last school year, and teen shoppers are looking to keep up on the latest trends. Use your high-quality product photos and group items together by trend or category. If you have any lifestyle product shots, that's even better.
Many ecommerce platforms like Shopify have tools to help you put this together, or you can use a free tool like Canva to follow a template. Once you have your lookbook, advertise it on Facebook and in email campaigns.
4. Contact Local Schools for Supply Lists
The best way to know exactly what school supplies kids will need is by going directly to the source. Many teachers and schools publish supply lists over the summer either for individual classrooms or by grade. Use these as a guide for last-minute supply purchases and keep them handy in your store as shopping guides for parents.
5. Offer Pre-Stuffed Backpacks
Take teacher supply lists to the next level by offering backpacks already stuffed with all of the items from the school lists. If you know you have many customers that will be shopping off of a particular list, put together a few product bundles ahead of time with everything they will need. You'll be saving time for busy parents, and it's a great opportunity for you to get higher profit margins with your sales markup.
6. Make Shopping Easy with Multiple Delivery Options
Back to school shopping is mostly done in stores, but that doesn't mean it's an easy process for parents. Parents are often juggling multiple kids and school lists while trying to find the right sizes and kids' favorite colors. Make your store the convenient option by offering services for shoppers to call ahead and set products aside to test in-store, or options for having supplies packaged for pickup or delivery after shopping in-store. Also make sure you have plenty of communication channels. Some shoppers are okay calling your store, but others prefer to have an email or Facebook messaging option.
7. Incorporate After School Activities
Back-to-school isn't all about the classroom. The start of a new school year also means the beginning of a new sports season. According to Livestrong, 69 percent of girls and 75 percent of boys in the United States participate in organized and team sports. Over 55 percent of high school students participate in school sports. Many shoppers are looking for athletic gear and apparel as much as they are shopping for classroom apparel. Stock up on basics like sweatpants and sweatshirts, plain t-shirts and tank tops, water bottles, earbuds, headphones, and duffle bags.
8. Host a Themed Event
Similar to hosting a flash sale, hosting an event is a great way to draw shoppers into your store at a specific time. You can show a school-themed film, host a board game competition, or even invite parents for a "Sip & Shop" event once the school year starts up. If you sell school or art supplies, you can hold an art contest where children submit their pieces and then invite community members to serve as guest judges. You'll draw a crowd of excited kids and their guardians, and be left with a great art display for your store. The event options are endless if you are willing to get creative
9. Don't Forget Teachers
You don't have to sell apparel or school supplies to capitalize on back to school spending. It's a busy time of year for teachers, too, as they prepare to head back to the classroom. Many are looking to savor the last of summer break by taking time for themselves or checking items off of the to-do list. No matter what kind of products or services you offer, consider having a special discount for teachers during back-to-school season.
Back-to-school and back-to-college spending make up the second largest retail holiday after the winter holidays. 71% of shoppers will visit brick and mortar stores to stock up on school supplies. And, the average back-to-school shopper will make 16 trips to purchase products in-store between July and September. In other words, there's plenty of opportunity for indie retailers to pick up back-to-school sales. Start your promotions early to have an A+ selling season.