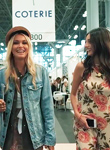 What do the UBM Fashion NYWOMEN'S shows have in common this coming June? A reimagined shopping experience exclusively designed for retailers and consumers, too. The co-located shows, including (PRE) COTERIE, MODA, ACCESSORIES THE SHOW and FAME will be held from June 10-12, 2018 at New York City's famed Jacob Javitz Center, home to the shows for many years.
With just one badge retailers can access all of the shows, browsing hundreds of top-notch wholesale suppliers offering a dizzying array of beautiful brands, stunning accessories, and every possible style of curated apparel. Grouped in product and class 'neighborhoods' (PRE) COTERIE offers buyers selections of luxury and contemporary accessories, globally sourced and designed product lines, beauty and apothecary items, and access to special resources for private collectors. In the FAME show, buyers are given the opportunity to find all that they need — a true one-stop shop- in contemporary ready-to-wear and on-trend fashions. MODA offers upscale selections of ready to wear collections featuring some of the industry's most recognized names and designers. Rounding out the show grouping is ACCESSORIES THE SHOW, which blends new and emerging brands and designs with classically styled and presented accessories to please any discriminating buyer.
The combined NYWOMENS show hours begin on Sunday morning, June 10th at 9am, running through 4pm on Tuesday, June 12th. Buyers are encouraged to preregister at one of the show's websites, or contact the show concierge with any questions about the individual show offerings. UBM Fashion offers generous buyer discounts on area hotels, along with complimentary shuttle service to and from the show. Please visit the site at www.ubmfashion.com/shows/ny-womens-1.5 for more information and registration.