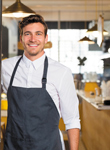 By Sonciary Honnoll
A customer's path to purchase often begins online but ends in-store. In fact, a Forbes Insight report found that 82% of shoppers conduct research online before completing a purchase in-store. Independent retailers know that an online presence is important. According to a National Retail Federation survey, the number one priority for small business owners in 2018 is to expand their digital presence.
The combination of customers researching online and small business owners wanting to expand their digital presence presents a strong opportunity for retailers to engage new customers. When retailers build a strong digital strategy on top of a successful storefront, the result is increased foot traffic, increased sales, and higher repeat business.
Let's look at six ways specialty retailers can leverage digital effectively to win, engage, and keep customers.
1. "Think Local" with Locally Targeted Advertising
The vast majority of sales — in fact more than 90% — are still happening in physical retail stores, according to the latest U.S. Census Bureau data from November 2017.
Independent retailers should explore local advertising as a critical digital channel to help drive foot traffic and in-store sales. Local advertising that is targeted based on location, interest, and demographics will reach the right customers, and in turn, help those consumers know what to buy and exactly where in their area to buy it.
Retailers can also partner with national brands, which have access to beautiful, inspiring content and, of course, bigger campaign budgets. When brands give local retailers great marketing materials, together they can reach local customers who may already be looking for the products they sell.
These partnerships help independent retailers compete with big box stores and increases awareness and sales for the retailers as well as brands they sell.
2. Post About More Than Just Product
Retailers can use social media to connect and engage with their local community by promoting inspirational industry content, in addition to product-specific content.
By sharing content related to their specialty and their customer interests, retailers can position themselves as a trusted local industry resource. Inspirational content is more likely to be shared and generate higher engagement than traditional product posts, which is key to Facebook's new algorithm.
3. Show, Don't Tell
An easy way to increase online engagement is by incorporating imagery in social media posts — Facebook posts with at least one image are twice as likely to be shared. Business owners can utilize content created by their brand partners, instead of feeling pressured to create their own. By sharing content straight from brands, retailers eliminate the risk of sharing old or incorrect materials.
4. Know Your Customers
There are many ways to get to know your customers, including well-maintained email lists, data collection based on purchases and engagement, and loyalty programs — in addition to the tried and true "go up and say hi" tactic.
A recent report found that 75% of consumers were more likely to buy from a retailer that recognized them by name, recommended products to them based on past purchases, or knew their purchase history. Getting to know your shoppers is just a good business practice.
5. Give Shoppers the Information They Need
Netsertive found that 87% of big-ticket appliance shoppers researched their item online, but then made their purchase at a local store; and 43% of shoppers researched local retailer websites before making an in-store purchase. Retailers need to make sure that information about their store, how to find it, and the products and services they offer, is easily accessible online.
Make it easy for potential customers to find the information they need, compare products, and identify precisely what they need to buy and where they can buy it by maintaining all company pages.
6. Capitalize on What Makes Your Store Stand Out
Online shopping can never deliver the personal touch a retailer provides while helping a customer in-person. When small businesses combine outstanding customer service, expert advice and a solid, engaging and informative online presence, they will see in-store sales soar.