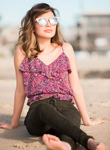 Sunglass selling season is in full swing and retailers everywhere are looking for stylish shades at competitive price points. 75% of U.S. adults wear sunglasses, equaling 95 million pairs of sunglasses sold in the U.S. each year, according to Statistic Brain.
Only 6% of sunglass sales are made online. So, this is one impulse item brick and mortar retailers can't afford to miss out on. Vye Eyewear offers retailers a designer look and quality at a price point that is accessible to the everyday consumer. "The eyewear industry lacked a fashion-forward selection with polarized lenses, so Vye Eyewear sought to fill that gap," says Brianna Castro, brand manager. Vye Eyewear sunglasses range from $13 – $25 wholesale, with retail rates ranging from $39 – $55.
"We use high-quality materials for our products," explains Eva Garcia, product developer for Vye Eyewear. "Depending on the frame and the collection, the materials could include acetate, stainless steel, nickel-silver, or high-quality polycarbonate. The lenses are polycarbonate or polarized." Because the products are high-end, Vye also has luxe packaging. Each pair comes with a pouch and microfiber cleaning cloth inside the design box.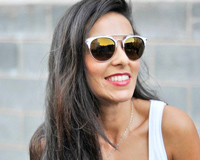 This season, "cat eye frames are very popular," says Eva. "Aviators are also always a strong frame shape, and colorful and two-tone lenses are a major trend right now." Vye heavily curates their designs, ensuring each and every style is unique and on-trend. "The shapes and colors are heavily influenced by the spirit of the collection," explains Eva. "We pride ourselves on only offering styles that set us apart."
Vye has low minimums of just six pieces per color. "We make it easy to do test orders and are happy to work with smaller boutiques," says Brianna. "Our clients can enjoy single color pre-packs, which enables them to study what colors work best for them."
Whether beach days, road trips, a walk in the park or simply a sunny day, your customers will need sunglasses this season. Stock your shelves with unique, on-trend styles made with high-quality materials at wallet-friendly price points. Visit www.vyeeyewear.com to view Vye Eyewear's collections.