By Kevin Zimmerman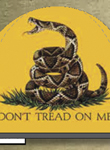 It is pigskins on parade at themed cap and beanie wholesaler American Mills International (AMI). The Minnesota-based company currently "has the orders rolling in" for its new NFL Players Program line, says owner/president Brad Peterson.
The fully licensed NFL headwear – available in baseball cap and double-layer winter beanie styles – features such star players as the Denver Broncos' Peyton Manning, the New England Patriots' Rob Gronkowski and the New York Giants' Odell Beckham, Jr. with on field photos, uniform numbers and team colors; the Green Bay Packers' Aaron Rodgers design features a typical "cheese head" design.
Peterson is quick to add that product featuring any current NFL player can also be ordered; each item is priced at $8.50. AMI has a patent pending on its fusion-printed design. "We appeal to the huge fantasy football market, and the upcoming NFL season should be a great time for us as well," Peterson says, adding that AMI is currently in negotiations to land three other sports licenses. AMI also offers a celebrity line of headwear, which includes Cheech & Chong, Larry the Cable Guy and Albert Einstein; the latter designs include an E = mc squared cap and "Bad Hair Day" beanie, both priced at $7.50.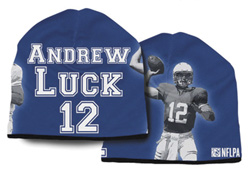 Additional offerings include a "Destination" cap/beanie emblazoned with the Route 66 highway sign over an American vista ($8.00) and an "Adult Humor" selection, with messages ranging from "This Is What a Cool Grandpa Looks Like" to "Beer: The Reason I Wake Up Every Afternoon" ($7.50). There is also a "Pride" line of such Americana as "Don't Tread on Me," "We the People," firefighter and military themes ($7.50).
That last underscores Peterson's "Made in the U.S.A." branding. "That is something that kind of fell off over the past few years, and something a lot of our competitors do not provide," he says. "But we are trying to bring it back in a big way, and we have found that a lot of buyers and customers are being drawn to the 'American-made' angle."
"Plus," he continues, "it gives us another advantage to offer caps and beanies made in the U.S., as opposed to having to import them from overseas, which takes our competitors additional time to get their inventory in."
AMI also has patents pending on its "Get Down Art" beanies, which include Jimi Hendrix and Marilyn Monroe designs, and its lightweight biker beanies, with such phrases as "Shut Up and Ride" and "Something Wicked This Way Comes," most featuring fearsome clowns and skeletons (all $7.50). A regularly e-mailed newsletter is available to alert buyers to new products. AMI maintains a minimum order policy of $100.
"I have been in the headgear industry for practically my whole life," Peterson says. "I started a painter's cap company in college, and I have had American Mills for about 25 years now." Setting aside the NFLs, Einstein's and Hendrix's, where does AMI get its ideas? "Generally we follow the best-selling t-shirts," he replies. "It is sort of putting a t-shirt design on a hat."