By Kevin Zimmerman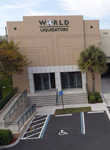 Florida-based World Liquidators may not be literally liquidating the world, but it does specialize in selling major chain department store surplus, closeouts, distressed packaging, returns, salvage and the like. What kind of merchandise falls under those categories? "Clothing, domestics, hard goods, small appliances, seasonal items, shoes, toys, tools, you name it," says Senior Executive Vice President Robert Winkoff.
Located in Pompano Beach, just to the north of Fort Lauderdale, World Liquidators sells to wholesalers and retailers by the pallet, small box, lot or truckload; its buyers can take advantage of free loading of sea crates and trucks. A constantly changing type of inventory in such large supply – the company boasts of having over 3,000 pallets on hand in its warehouse – ensures that buyers are checking in constantly to see what is available. "We keep our website overly basic, which generates tons of phone calls," affirms Winkoff. "It is impossible to keep our product updated live as it turns over so quickly."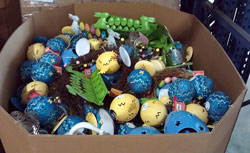 Indeed, he says, World Liquidators' inventory changes hourly. "If I only have three pallets of a particular item, it is usually gone before I can even crop the pictures for the site." Instead, Winkoff maintains sections devoted to perennial categories like Christmas and Easter items, with prices starting at $99 per pallet, cards, ornaments, toys and relevant decorations making up the majority. At press time, the site was also promoting 20 by 30 inch spring and Easter themed accent rugs in assorted styles, made of 100% nylon pile with rubberized backing at $0.75 per lot of 400, one and two-piece bathing suits in assorted sizes and colors from such manufacturers as Nike and Candies, wholesale priced at $1 per piece, with pallets containing 1,500-1,800 pieces, and denim pants, jeans skirts and shorts, with pallets containing 400 items and wholesale priced at $5.00 per piece.
"We have products to accommodate every size buyer," Winkoff says. "We supply the other wholesalers and retailers in our industry, and have for over 20 years. We do a larger percentage of clothing than any other category. We never know from one load to the next what they will contain, so all categories are on the board."
As for which stores World Liquidators receives supplies, Winkoff replies: "Our contracts prohibit advertising or discussing the store names, so that is why we use the blanket term, 'Major Department Store Chains.' We buy multiple trailer loads of product, much of which comes down to our South Florida Warehouse for storage. I am not looking to strike any other deals to purchase product," he states. "We are set in that regard."