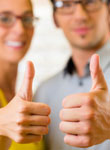 The U.S. Consumer-Confidence Index climbed to a five-year high of 76.2 in May from an upwardly revised 69.0 in April, the Conference Board reports. The increase beat the forecast of economists polled by MarketWatch, who expected the index to rise to 72.3. The surge in confidence mirrors the Consumer Sentiment Survey, which hit a six-year high this month. Higher confidence suggests that the U.S. economy will remain on a modest growth path, with a chance for acceleration in the second half of 2013.
Consumers are also more optimistic about the health of the economy over the next six months, according to the Conference Board. The expectations index jumped to 82.4 from 74.3 in April to mark the highest level in seven months. They were somewhat less optimistic about how they feel right now, but the present situation index also rose, up to 66.7 from 61.0.
Consumers are "considerably more upbeat about future economic and job prospects," said Lynn Franco, director of economic indicators at the Conference Board. "Back-to-back monthly gains suggest that consumer confidence is on the mend and may be regaining the traction it lost due to the fiscal cliff, payroll-tax hike and sequester."
Earlier Tuesday, a report from S&P/Case-Shiller showed that house prices have risen by the most in close to seven years.