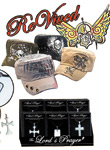 American Distribution Company LLC provides the newest and most fashion forward products and designs in accessories and general merchandise, according to Adam Dawe, president and CEO. "I'm in China about every ten weeks, and I get a feel for what is going to sell in the States and in Europe." Leather and stainless steel religious and spiritual jewelry are big sellers right now, Dawe shares. "Many jewelry trends have a longer cycle than other product categories, and I think this one will carry through to 2014."
To help retailers meet this growing demand, American Distribution offers several religious-themed bracelets and pendants. The company's "I Stand" 100 percent leather wristband, for example, has a pewter cross emblem. Adjustable to fit any wrist, it is available in six styles and retails for around $14.99. Another popular item is "The Lord's Prayer" stainless steel pendant with 16-inch necklace. It is offered in six styles and retails for up to $40. The "Jesus" stainless steel unisex necklace is another big seller, and retails for around $9.99. Attractive to both religious and fashion conscious consumers, spiritual jewelry has a timeless appeal. Moreover, Dawe notes, "Religious merchandise may be popular because of the world we live in. Everyone is looking for a little hope."
Hats are also taking off, Dawe points out. Fedora hats are back, and they are one of the hottest styles around, as celebrities including Brad Pitt, Jessica Alba and Brittney Spears take the lead donning this old-fashioned accessory. The topper is typically creased lengthwise down the crown and pinched in the front on both sides. American Distribution can help retailers stay on the front end of this fall fashion fad, as it offers fedoras in a wide selection of colors and fabrics.
Among other trending headwear is ReVived, a cloth cap with an edgy design, blending skulls, wings and crosses. Dawe says he expects the ReVived cap, which is the same style as those sold at major fashion stores, to be extremely popular in the months to come. It is available in a 12-piece counter display.
As for profit margins, sellers can expect the retail price to be at least double wholesale cost, but it depends on the season, Dawe stresses. "People will spend more September through December on high quality items." American Distribution Company has different price structures, and sells by the case, all the way up to containers. The company ships throughout the U.S., Canada and Mexico, and invites retailers to visit its showroom in Mobile, AL.
Where to buy:
American Distribution Company
3140 Lees Lane
Mobile, AL 36693
Tel.: 251-661-0378
Visit: American Distribution Company